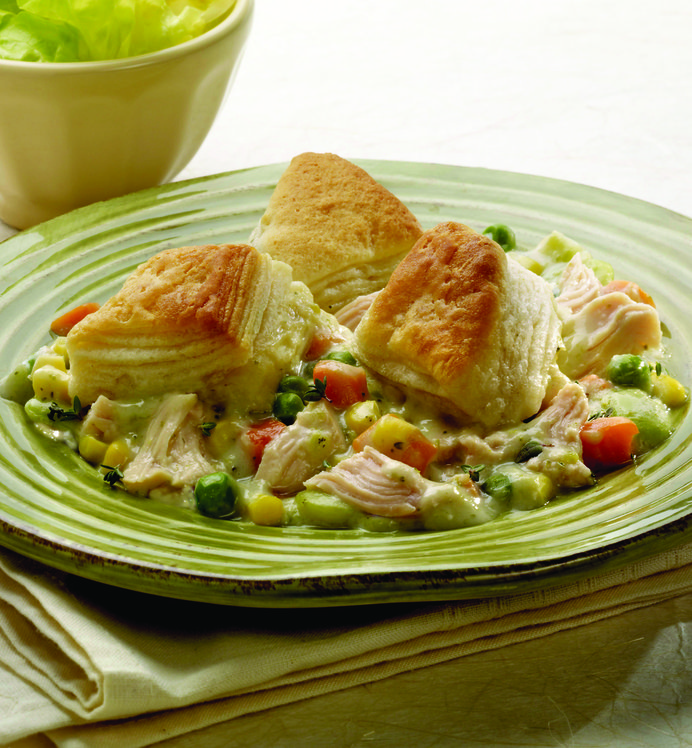 Home-Style Chicken Pot Pie
Ingredients
3 tablespoons butter or margarine
1/2 cup diced onion
1/2 cup diced potato
1 (8.5–ounce) can peas and carrots, drained
1/4 cup sliced celery
1 (10 3/4–ounce) can cream of chicken soup
1 (10–ounce) can Chunk Chicken, drained
1/4 teaspoon dried rosemary leaves, crumbled
1/4 teaspoon ground sage
1/8 teaspoon white pepper
1 (15–ounce) box refrigerated pie crusts (2 crusts)
Instructions
Heat oven to 400°F.
In large saucepan, melt butter. Add onion, potato, peas and carrots and celery; sauté 5 minutes.
In bowl, combine soup, chicken, rosemary, sage and white pepper; stir into vegetables.
Unfold 1 pie crust; fit into 9-inch pie plate. Fill with chicken mixture; cover with second pie crust. Trim crust if needed; press edge with fork. Brush top crust with egg wash (1 egg beaten with 1 tablespoon water) to create glossy crust, if desired.
Bake pie 10 minutes. Reduce oven temperature to 350°F. Bake 25 minutes longer. Cover crust with aluminum foil to prevent browning. Bake 15 minutes more.
https://stlcooks.com/home-style-chicken-pot-pie/
Recipe and Photo: Can Manufacturers Institute