Jump to recipe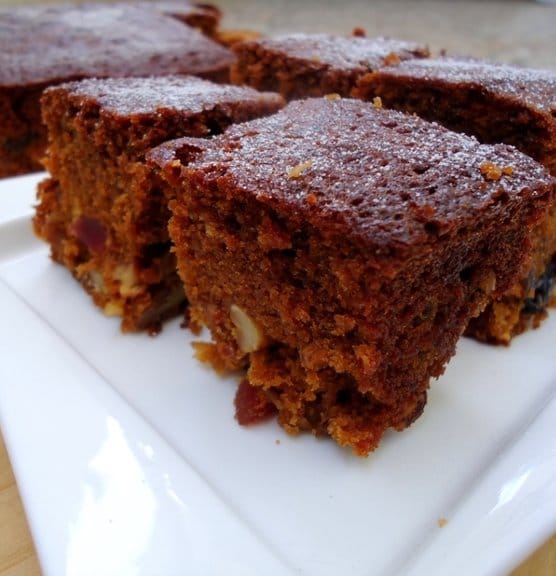 Ingredients
For the Cake:
1 ½ cup butter – soft, unsalted
1 ½ cup Granulated Sugar
1 tsp baking powder
4-5 Eggs*
2 Cups Flour
½ cup chopped walnuts
1 tsp Vanilla (essence or extract)
For the Caramel:
¾ cup White Granulated sugar
¼ cup water
For the Soaked Dry Fruits:
½ cup Golden Raisins
½ cup chopped cashews
½ cup Raisins
1 cup Dried Plums
1 cup Rum (or if you like it really strong make add another ½ cup)
1 tsp Powdered Cinnamon
1 tsp powdered Cloves
Instructions
Soaking the fruits –
Finely chop your dry fruits and put them into a tall glass jar. Add the rum and shake it vigorously so everything is coated. Stir this mixture every two days for even soaking. Add more rum as you go – depending on your taste. Do this at least 2 weeks in advance.
Caramel –
(Disclaimer – This is how I made the caramel, and it worked this way. My caramel has crystallised before this, so I am no kind of caramel expert)
In a deep bottomed or aluminium pan, add the sugar. Keep the gas on medium heat. The sugar starts dissolving around the edges. At any point of caramel making, don't stir the sugar with a spoon. Swirl it around using the handles of your pan. Do this so the sugar moves and doesn't clump in one place. Swirl from time to time for an even caramel. The sugar goes from golden to brown and then deep chocolate brown. This is the stage you want. When the sugar gets smokey and really really dark, add the water. Stir this with a spoon this time until all the caramel mixes in with the water. Let this mixture become slightly thick, then cool.
Making the cake
Preheat the oven to 305 degrees F. Line the base and the sides of a 8 inch square pan with butter paper. Make sure the sides are tall.
In a bowl cream the butter and sugar using an electric mixer until it is fluffy – but the sugar has not dissolved.
Add eggs one at a time. Beat well until completely incorporated. The principle here is to add eggs until the sugar dissolves completely. This takes up to 6 eggs. I added 5.
Sift in the flour and baking powder and mix until incorporated.
To this mixture add all your soaked fruits and mix with a wooden spoon.
Add the prepared caramel to the batter gently fold it in until the batter is an even brown color.
Pour the batter into the prepared baking tin.
Bake in the oven for 50 minutes or until a skewer comes out clean.
Cool this overnight covered with a tea towel and then cut it into pieces.
Recipe and Photo: Chocolate Coffee Cream / CC BY-ND