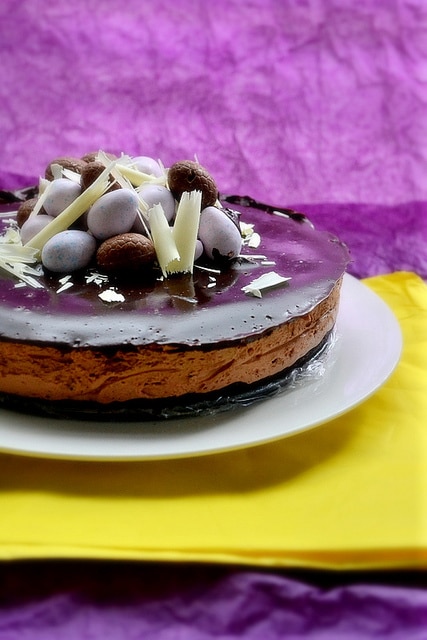 Easter Chocolate Mousse Torte
Ingredients
2/3 cup butter or margarine, softened
1 cup Sugar
3 eggs
1 1/2 tsp vanilla extract
2 cups all-purpose flour
2/3 cup cocoa powder
1 1/2 tsp baking powder
1/2 tsp baking soda
1 1/3 cups milk

Chocolate Mousse Filling (recipe follows)

1 tsp unflavored gelatin
1 tbsp Cold water
2 tbsp Boiling water
1 cup (1/2 pt) cold whipping cream
1/3 cup powdered sugar
3 tbsp cocoa powder
1 tsp vanilla extract
Instructions
Heat oven to 350 °F. Line 15-1/2×10-1/2×1-inch jelly-roll pan with foil; grease and flour foil.
Beat butter and Sugar in large bowl until creamy.
Add eggs and vanilla; beat well.
Stir together flour, cocoa, baking powder and baking soda; gradually add to butter mixture, alternately with milk, beating until well blended.
Spread batter into prepared pan.
Bake 15 to 20 minutes or until wooden pick inserted in center comes out clean. Cool 10 minutes.
Invert onto wire rack; carefully peel off foil. Cool completely.
Prepare chocolate MOUSSE FILLING.
Trim edges from cake; cut cake crosswise into 4 equal pieces, each about 9×3-1/2 inches.
Place one layer on serving plate; spread with about 1/2 cup filling.
Repeat with 2 more layers; pipe or spread fourth layer with remaining filling.
Refrigerate until ready to serve.
Cover; refrigerate leftover torte.

Chocolate Mousse Filling

Sprinkle gelatin over cold water in small cup; let stand several minutes to soften.
Add boiling water; stir until gelatin is dissolved and mixture is clear. Cool 5 minutes.
Beat whipping cream, powdered sugar, cocoa and vanilla in medium bowl until thickened; pour in gelatin mixture and beat until stiff.
Use immediately.
https://stlcooks.com/easter-chocolate-mousse-torte/
Recipe: recipes.wikia.com / CC BY-SA