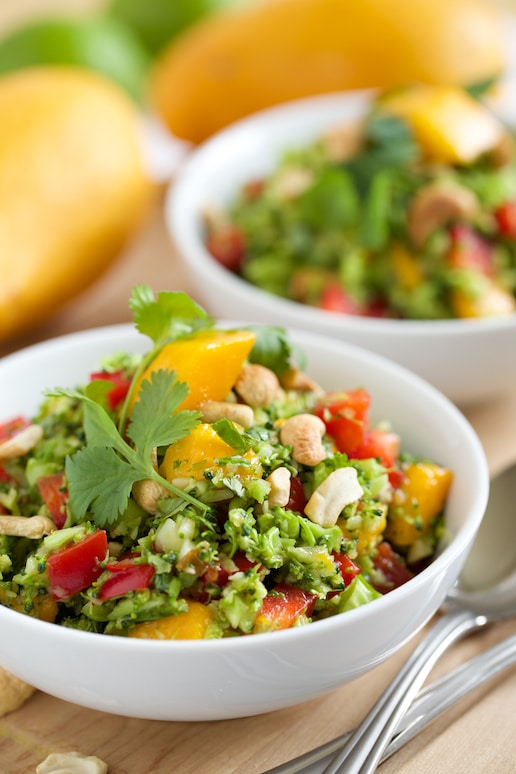 Thai Style Broccoli Salad
Ingredients
Salad Ingredients:

2 heads of broccoli, 1 pound – 10 ounces
2 mangoes, 1 pound
1 large red bell pepper, 10 ounces
1 cup cashews, toasted
¼ cup fresh cilantro, chopped

Salad Dressing:

1 Tablespoon sambal chili paste
¼ cup honey or maple syrup
¼ cup fresh lime juice
1 clove garlic, minced
1 Teaspoon sea salt
¼ cup avocado oil
Instructions
Peel the stems of the broccoli and roughly chop them, keeping the stems separate from the florets. Cut the florets into 2? pieces.
In a 14-cup food processor fitted with the chopping blade, process the broccoli in 3 batches. First the stems, and the next two batches process the florets into small pieces (refer to the pictures).
Peel the mangoes and cut them into ½" pieces.
Cut the bell pepper in half, removing the stem and seeds. Cut it into ¼" – ½" strips and then cut the strips crosswise to form cubes.
For the dressing, whisk together all the ingredients except the avocado oil. Slowly drizzle in the avocado oil, whisking constantly until the dressing emulsifies.
Toss all the salad ingredients together with the dressing and serve within 4 hours.
https://stlcooks.com/thai-style-broccoli-salad/
Recipe and Photo: GI365 / CC BY-SA