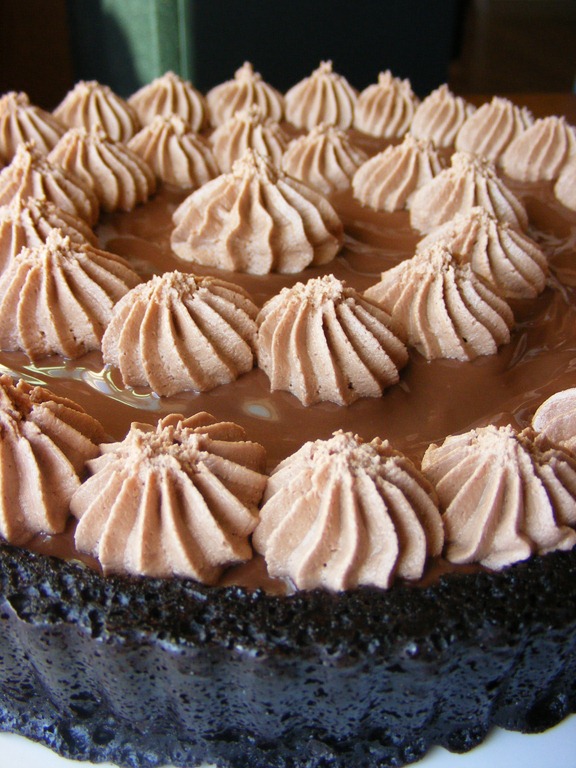 Dark Chocolate Nutella Cake
Ingredients
1 oz Chopped Semi Sweet Chocolate
1/2 cup Hot Coffee
1 cup Sugar
3/4 cup plus 3 tbsp All Purpose Flour
1/2 cup Hershey's Special Dark Cocoa (it's this cocoa that gives it the dark colour)
3/4 tsp Baking Soda
1/4 tsp Baking Powder
1/3 tsp Salt
1 large Egg (at room temp)
1/4 cup Canola Oil
1/2 cup Buttermilk
1/2 tsp Vanilla Extract
Instructions
Preheat oven to 300 deg F, grease torte pan. Spray pan with nonstick spray. I lined the center part of the torte pan with parchment paper and then sprayed again. (I am always so nervous about it sticking)
In a bowl, pour in the hot coffee….add chocolate and let sit for a few minutes to let the chocolate start to melt. Stir until mixture is smooth and all chocolate is melted.
In a large bowl sift together sugar, flour, cocoa powder, baking soda, baking powder, and salt.
In the bowl of an electric mixer, beat egg until a little thickened – about 3 minutes. Slowly add the oil, buttermilk, vanilla, and chocolate/coffee mixture to the egg. Mix until well combined. Add the dry mixture and beat together until just combined.
Pour batter into torte pan and bake for about 45 – 60 minutes….or until tester comes out clean.
Cool cake in pan until completely cooled. I ran a knife gently around the edge of the cake before inverting onto a cooling rack – then I flipped it over again onto serving plate.

To Decorate Cake:

Warm jar of NUTELLA in the microwave until it is pourable consistency….start at about 15 sec and go from there. Pour the nutella into the well of the torte cake and spread until it looks pretty.

Nutella Buttercream

Cream together 1 stick unsalted Butter, 1/2 cup Nutella, and 1 tsp vanilla extract with enough powdered sugar until piping consistency is achieved. Fill piping bag (with decorative tip attached) with the Nutella Buttercream and decorate cake.
https://stlcooks.com/dark-chocolate-nutella-cake/
Recipe and Photo: Love Big, Bake Often / CC BY