Jump to recipe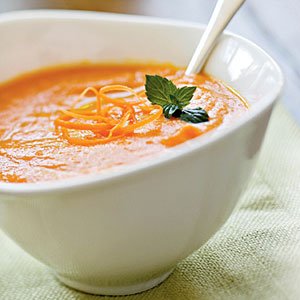 Cream of Carrot Soup

Ingredients
10 carrots, scrubbed, lightly peeled and sliced
6 cups vegetable broth
4 tablespoons unsalted butter
1 medium onion, chopped
2 cloves garlic, minced
3 tablespoons cornstarch
water
pinch dill weed or minced fresh dill
? tsp each dried oregano
? tsp each dried thyme
tablespoon minced fresh parsley
salt
ground black pepper
½ cup cream
fresh parsley for garnish
Instructions
In a large Dutch oven, heat the butter or margarine, add the onions and the garlic, sauté until light golden.
Add the broth.
Add the carrots, dill, oregano, thyme, parsley, and salt and pepper to season.
Bring all to a boil.
Lower the heat, and simmer until carrots are done.
Mix cornstarch with small amount of cold water to dissolve.
Add the diluted cornstarch to the soup and stir well.
Add the cream and let simmer another 15 minutes, but do not let the soup boil.
Serve in bowls and garnish with fresh parsley.
Recipe and Photo: recipes.wikia.com / CC BY-SA