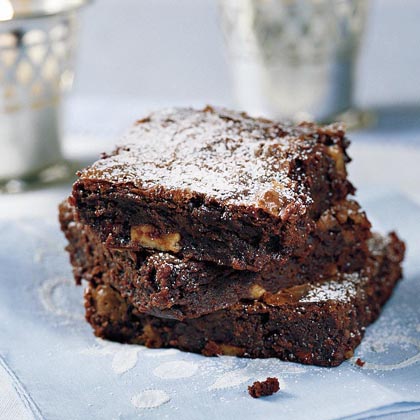 Chunky Chocolate Brownies
Ingredients
2 tablespoons water
3/4 cup granulated sugar
1/3 cup butter
1 (11.5–ounce) package semisweet chocolate chunks, divided
2 large eggs
1 teaspoon vanilla extract
3/4 cup all-purpose flour
1/4 teaspoon salt
1/2 cup chopped hazelnuts or pecans, toasted
Powdered sugar
Instructions
Combine first 3 ingredients in a 3 1/2-quart saucepan. Bring to a boil over medium heat, stirring constantly. Remove from heat, and stir in 1 cup chocolate chunks until smooth. Let cool 5 minutes. Add eggs, 1 at a time, stirring just until blended. Stir in vanilla.
Combine flour and salt; stir in remaining chocolate chunks and hazelnuts. Stir flour mixture into chocolate mixture in saucepan. Spread into a lightly greased 9-inch square pan.
Bake at 325° for 23 to 28 minutes. Cool in pan on a wire rack. Dust with powdered sugar. Cut into squares.
To freeze up to 3 months: Wrap baked brownies in aluminum foil, and place in a large zip-top plastic freezer bag. To thaw, remove brownies from plastic bag, and let stand at room temperature for 3 hours; unwrap and serve.
https://stlcooks.com/chunky-chocolate-brownies/
Recipe and Photo: Peggy's Recipe Share / CC BY-SA