Jump to recipe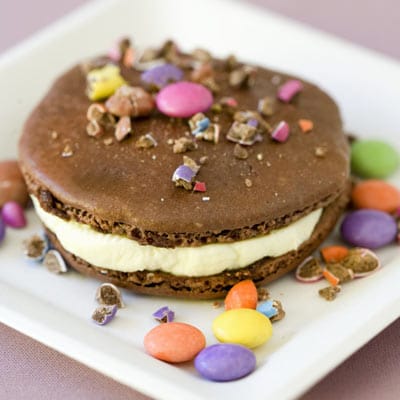 Ingredients
For the Pies
3 oz Butter
6 oz Sugar
1 Egg
4 1/4 floz Milk
3 tbsp Cocoa powder
10 2/3 oz Flour
1 tbsp Baking powder
1 pinch Salt
For the filling
3 1/2 oz Butter
5 1/3 oz Icing Sugar
:To garnish
Chocolate buttons
Instructions
Heat the oven to 325ºF. Grease and line two baking sheets.
Cream together the butter and sugar until light and fluffy then beat in the egg and milk. Fold in the cocoa, flour, baking powder and salt. Spoon the mixture into about 16 mounds on the baking sheets, flattening each with the back of a spoon. Allow room for the mixture to spread as it cooks.
Bake in the oven for about 15 minutes or until firm to the touch then transfer to a wire rack and let cool.
For the filling, beat together the butter and icing sugar. Sandwich the cookies together with the filling and scatter over the chocolate buttons.
Recipe and Photo: Foodista / CC BY