Jump to recipe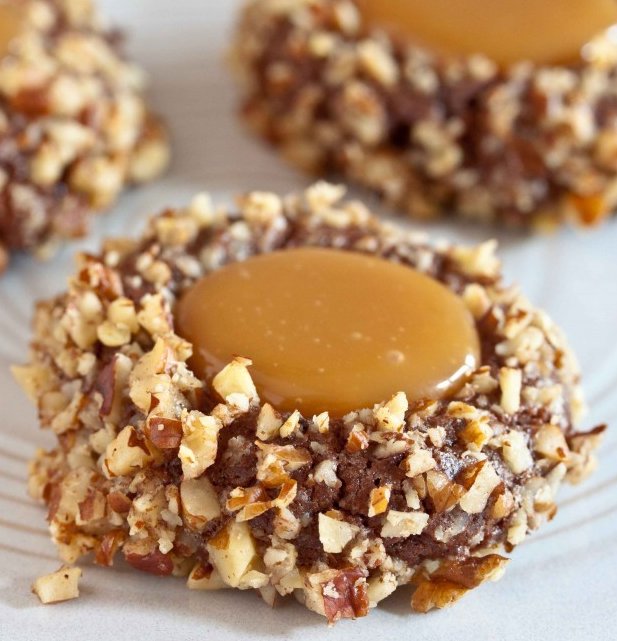 Chocolate Turtle Cookies

Ingredients
1-1/2 cups sifted flour
¼ teaspoon baking soda
¼ teaspoon salt
½ cup unsalted butter
½ cup firmly packed brown sugar
1 egg
1 egg yolk (reserve white)
¼ teaspoon vanilla extract
1/8 teaspoon maple extract
30 pecan halves
Chocolate Frosting:
2 squares chocolate
¼ cup milk
1 tablespoon butter
Instructions
Sift together the flour, soda and salt.
cream the butter and brown sugar together until well blended.
Add egg and egg yolk, beat well.
Blend in vanilla and maple extracts.
Add dry ingredients, gradually and mix thoroughly.
Dough will be soft, chill if desired.
Arrange pecan halves in groups of three on baking sheets to resemble head and legs of turtle.
Mold dough into balls, dip bottoms unto into unbeaten egg whites and press lightly onto nuts.
Use a rounded teaspoonful of dough for each, so tips of nuts will show when cookies are baked.
Bake in 350 oven for 12 minutes.
Cool and frost tops generously with chocolate frosting.
For frosting: Combine chocolate, milk and butter in top of double boiler.
Heat over boiling water until chocolate melts. Blend until smooth.
Recipe and Photo: recipes.wikia.com / CC BY-SA