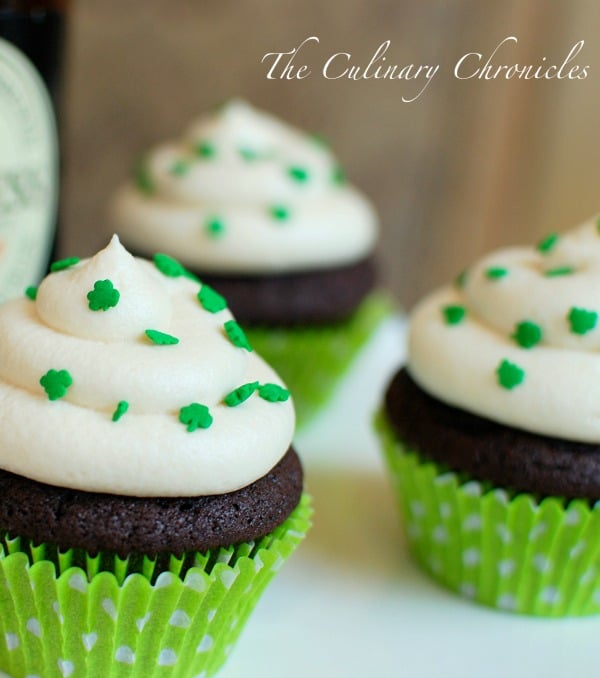 Chocolate Stout Cupcakes with Irish Cream Buttercream
Ingredients
Cupcakes:

1 Cup Stout Beer
1 Cup Unsalted Butter
¾ Cup Quality Unsweetened Cocoa Powder
2 Cups All Purpose Flour
2 Cups Granulated Sugar
1½ Teaspoons Baking Soda
¾ Teaspoon Salt
2 Large Eggs
? Cup Sour Cream

Irish Cream Buttercream:

4 to 5 Cups Confections Sugar
2 Cups Unsalted butter, at room temperature
4 to 5 Tablespoons Irish Cream Liqueur
Instructions
Preheat oven to 350°F. Line cupcake cups with paper liners.
Prepare the cupcakes: Put the butter with the stout beer in a sauce pan over medium heat and bring to a simmer. Whisk in cocoa powder until smooth. Cool slightly.
In a large bowl, whisk the flour, sugar, baking soda and salt. In a mixer bowl, beat the eggs and the sour cream together. Add the beer/butter/cocoa mixture and beat to combine. Add the flour mixture and beat briefly just to combine. Using a rubber spatula, fold the batter until completely combined, making sure to incorporate little pockets of flour on the bottom so that the batter is of equal consistency everywhere.
Fill the cupcake liners about 2/3 of the way if you want flatter cupcakes and 3/4 if you want domed. Bake for about 17 minutes, or until a toothpick inserted into the middle of a cupcake comes out clean. Cool completely to room temperature.
Prepare the frosting: In a large mixer bowl, whip the butter for several minutes until very light and fluffy. Slowly add about half of the powdered sugar a few spoonfuls at a time until incorporated. Slowly drizzle the Irish Cream and whip until combined. Add the rest of the powdered sugar until your desired consistency has been achieved.
Assemble: Fill a pastry bag and pipe buttercream on top of cooled cupcakes. Garnish with sprinkles or other adornments. Enjoy!
https://stlcooks.com/chocolate-stout-cupcakes-with-irish-cream-buttercream/
Recipe and Photo: The Culinary Chronicles / CC BY-ND