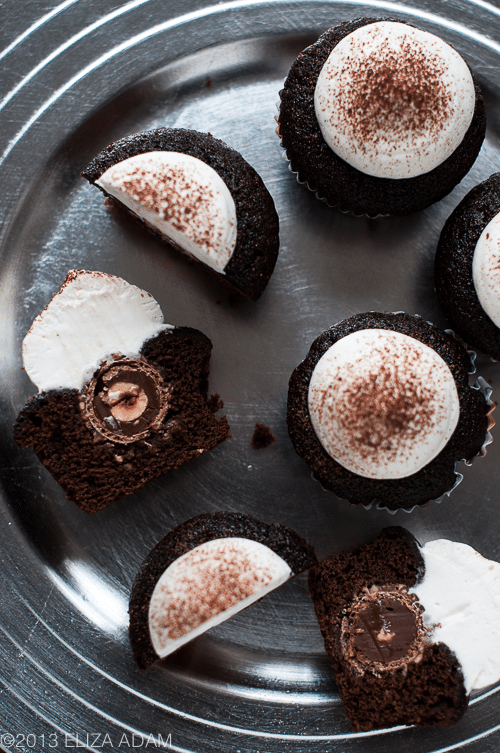 Chocolate Hazelnut Cupcakes
Ingredients
1 cup all-purpose flour
1 cup plus 2 tablespoons sugar
1/3 cup plus 2 tablespoons unsweetened cocoa powder
1/2 teaspoon baking soda
1/4 teaspoon salt
1/2 cup (1 stick) unsalted butter, melted and warm
2 large eggs
1 teaspoon pure vanilla extract
1/2 cup hot coffee
12 Ferrero Rocher

Whipped Cream Frosting:

1 1/2 cups heavy cream
2 1/2 tablespoons sugar
1 teaspoon vanilla extract
Unsweetened cocoa powder
Instructions
To make cupcakes:

Position a rack in the lower third of the oven. Heat the oven to 350 degree F. Line a muffin pan with cupcake liners.
Add flour, cocoa powder, sugar, baking soda, and salt in a bowl and whisk thoroughly with to combine.
In a mixing bowl, add the butter, eggs, and vanilla; beat with paddle attachment on medium speed for one minute. Add flour to egg mixture and beat for 20 seconds. Scrape the sides of the bowl and add instant coffee. Beat again for 20-30 seconds until the batter is smooth. The batter will be thin enough to pour.
Divide it evenly among the lined cups. Place a whole Ferrero Rocher in the center of each well. Bake 18-22 minutes just until a toothpick inserted into a few of the cupcakes comes out clean. Set the pan on a rack to cool. Frost the cupcakes when they are completely cool.

To make the frosting:

Place heavy cream, sugar, and vanilla extract in a chilled bowl and beat with an electric mixer on high speed until stiff peak forms. Transfer the frosting to a large resealable plastic bag. Snip the end of a corner of the plastic bag and pipe an even amount of frosting onto the cupcakes. Sprinkle cupcakes with unsweetened cocoa powder before serving.
https://stlcooks.com/chocolate-hazelnut-cupcakes/
Recipe and Photo: Notes From My Food Diary / CC BY-ND