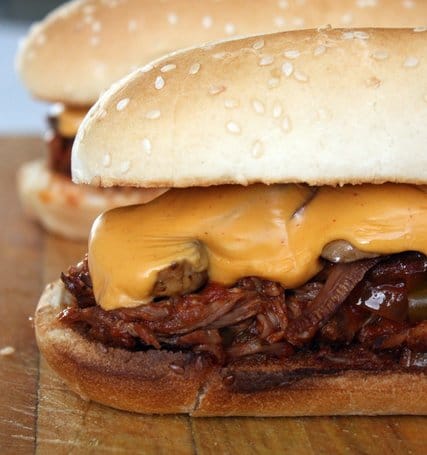 Slow Cooker Spicy Southwest Steak Sandwiches
Ingredients
2 pounds flank steak
1/2 cup Worcestershire sauce
2 bottles beer
1 medium yellow onion, chopped
1 red bell pepper, cored, seeded, ribbed and chopped
2 green bell peppers, cored, seeded, ribbed and chopped
6 scallions, white and light green parts only, chopped
1 (28-ounce) can crushed tomatoes
1 (6-ounce) can tomato paste
Salt/pepper
Delicioso Adobo seasoning

1 tablespoons garlic powder
1 tablespoons onion powder
1 tablespoons dried oregano
1 tablespoons lemon pepper
1 tablespoons parsley flakes
1 tablespoons achoite powder from annatto seed
1/2 tablespoon cumin powder
---
Instructions
Cut the flank steak into large pieces and place them in a large bowl. In a small bowl, combine the adobo and the Worcestershire sauce to make a paste. Rub the paste into the meat, add the beer, and let marinate for 15 minutes in the refrigerator.
Transfer the meat, as well as the marinade to the crock-pot and add the tomato paste and crushed tomatoes to the mix. Cook on low for about 7-8 hours or high for 5-6 (these are just estimates!). You'll be able to easily tell when the meet is done because it will start falling apart easily.
During the last hour add the veggies to the slow cooker.
Remove the meat from the pot and shred the meat using 2 forks. To thicken the sauce you can add some cornstarch (dissolved in cold water first) or bump the temp up to high during the last part of the cooking. You could also leave out one of the beers.
Serve on top of rice with tortillas or on subs.
Notes
I was able to find achoite powder in the Mexican/Latin spice section of my supermarket (with the beans and rice). It came in a bag instead of a jar and was only a few bucks if I remember correctly.
https://stlcooks.com/slow-cooker-spicy-southwest-steak-sandwiches/
Recipe and Photo: Sunshine and Bones / CC BY-SA