Jump to recipe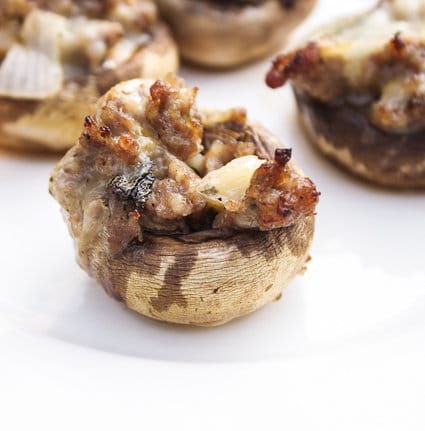 Sausage and Pepper Jack Stuffed Mushrooms

Ingredients
2 large packages of stuffing mushrooms (there are about 10 mushrooms per package), cleaned & de-stemmed
8 ounces of ground sausage
1/4 cup white onion, diced
1 tablespoon dried sage, crumbled
1 teaspoon garlic salt
1 teaspoon black pepper
1 cup shredded pepper jack cheese
Instructions
Pre heat your oven to 350.
Combine sausage, onion, sage, garlic salt & black pepper in a skillet.
Mix & cook throughly.
Remove from heat & add the cheese, allow the cheese to bind the sausage together.
Spoon sausage & cheese mix into the mushrooms.
Bake for 15 minutes & serve hot!
Image and recipe reprinted with permission from horsesandheels.com and www.healthyaperture.com