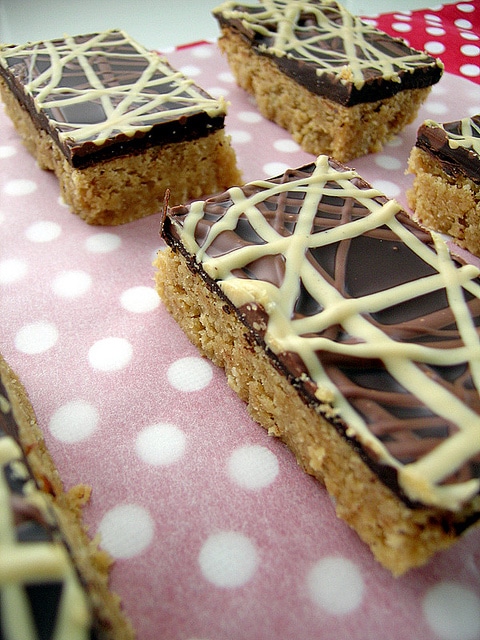 Chocolate And Peanut Butter Slice
Ingredients
1/2 cup unsalted butter
1 cup smooth peanut butter, plus 2 tbs extra to drizzle
11/2 cups flour, sifted
3/4 firmly packed cup brown sugar
1 cup desiccated coconut
1 egg, beaten
8 oz good-quality dark chocolate, chopped
1/2 cup white chocolate, chopped
1/2 cup milk chocolate, chopped
Instructions
Preheat the oven to 350°F. Line a 8×12 pan with baking paper, leaving 4cm overhanging on all sides.
Combine the butter and peanut butter in a saucepan over low heat, stirring, for 1-2 minutes until melted. Place the flour in a large bowl with the sugar, coconut, egg and butter mixture and stir to combine. Press the mixture into the base of the prepared pan and smooth the surface. Bake for 10 minutes until golden (I had to bake for 10 minutes longer). Set aside to cool for 10 minutes.
Meanwhile, place the dark chocolate in a heatproof bowl set over a pan of gently simmering water (don't let the bowl touch the water) until the chocolate has melted. Stir until smooth, then pour over the base and chill for 30 minutes until set.
Melt the white and milk chocolates in separate bowls as above. Whisk the extra 2 tbs peanut butter into the white chocolate until smooth. Drizzle slice with melted milk chocolate, followed by the white chocolate mixture. Chill briefly until set. Using the paper, lift the slice out of the pan and cut into 12 squares.
https://stlcooks.com/chocolate-and-peanut-butter-slice/
Recipe and Photo: jamieanne / CC BY-ND