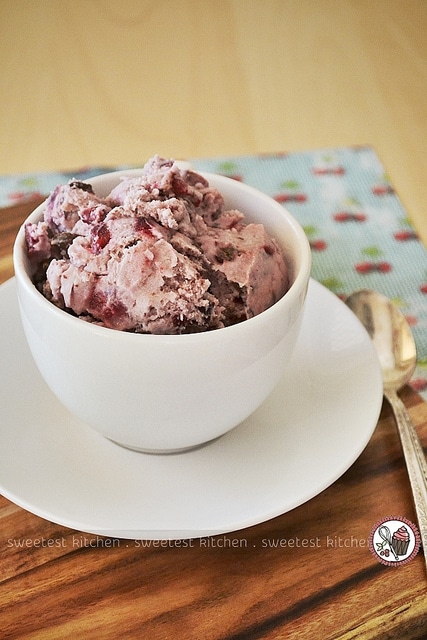 Recipe: Cherry Chocolate Chip Ice Cream
Ingredients
1 can coconut milk (13.5 oz, 400g, full fat)
1 bag of fresh or frozen cherries (10 oz, 285g), if frozen, thaw before preparing
1 teaspoon vanilla extract
½ teaspoon almond extract (optional)
¼ cup of honey
½ cup of mini semi-sweet chocolate chips (see note)
Instructions
Set aside one fourth of the cherries, and finely chop remaining three-fourths of cherries.
Place the whole cherries you set aside in a blender or food processor, and puree.
Add all the liquid ingredients (coconut milk, vanilla & almond extracts and honey) into the blender or food processor. Do not add chopped cherries or chocolate chips yet! Blend on medium speed for about one minute.
Stir in remaining chopped cherries into the mixture. Do not blend, stir only.
Pour mixture into electric ice cream maker and churn as per manufacturer's instructions. Transfer ice cream to freezer-safe container and stir in chocolate chips, then enjoy immediately or freeze until desired consistency.
Notes: For dairy-free, nut-free, refined sugar-free, vegan, etc., choose the appropriate type of chocolate.
Photo: jamieanne on flickr / CC BY-ND
Recipe: Paleo Newbie