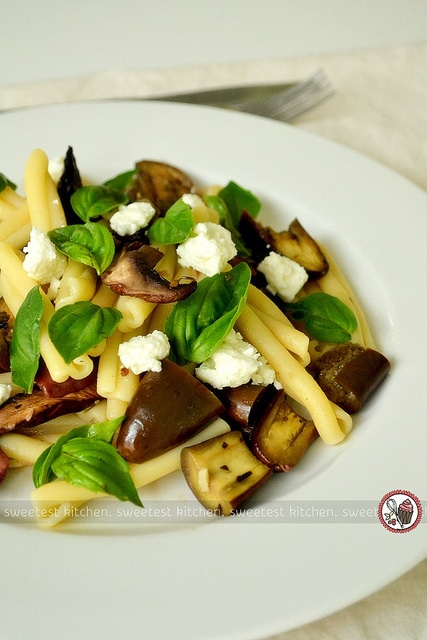 Recipe: Pasta With Roasted Mushrooms, Eggplant & Olives
Ingredients
8 baby eggplants, halved lenthways
8 portobello mushrooms, thickly sliced
1 garlic clove, finely chopped
100ml extra virgin olive oil
3/4 (120g) pitted kalamata olives, halved lengthways
juice of 1 lemon
150g soft goat's cheese, crumbled
1 Lb. short pasta
1 cup fresh basil leaves
Instructions
Preheat the oven to 480F (250C).
Gently toss eggplants, mushrooms and garlic with 2 tablespoons of the oil. Season and cook on a foil-lined tray for 8-10 minutes. Add olives and cook for a further 1-2 minutes or until eggplant is golden and tender.
Whisk lemon juice and remaining 1/4 cup (60ml) oil in a bowl and season. Slice eggplant into 2cm pieces, then toss all the vegetables with the goat's cheese and lemon dressing. Set aside.
(Note, that I did not toss the vegetables with the cheese at this point. Seeing how soft the cheese was, I didn't want to crush it, so I scattered it on top of the individual servings along with the basil, just before serving.)
Cook pasta in boiling salted water according to packet instructions until al dente. Drain and gently toss with the vegetables and basil leaves, then serve.
Photo: jamieanne on flickr / CC BY-ND