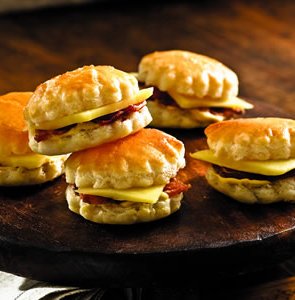 Cheddar and Bacon in Puff Pastry
Ingredients
2 tablespoons flour
1 piece (12 x 12 inches) frozen puff pastry, defrosted
1 egg yolk
6 ounces sliced bacon cut into 1 1/2-inch pieces
3 tablespoons Dijon mustard
1 package (7 ounces) Aged Cheddar cheese
---
Instructions
Heat oven to 375°F.
On a floured work surface cut the puff pastry into 24 scalloped or straight-edged 2-inch rounds. Or use a scalloped 2-inch tartlet pan as a cutter. Combine the egg yolk with 2 teaspoons water and brush a little of the mixture across the top of each piece. Bake according to package instructions. Meanwhile, in a frying pan large enough to hold the bacon in a single layer, cook bacon until lightly browned and not too crispy. Transfer to paper towels.
To assemble the appetizers, using a serrated knife, carefully cut the puff pastry in half like a hamburger bun. Spread 1/2 teaspoon mustard on the bottom of each piece. Place a piece of bacon on the mustard. Cut 12 slices of cheese just less than 1/4-inch thick and cut the cheese slices in half; place a piece on the bacon. Top with the other half of puff pastry.
For serving, arrange the puff pastry on a cookie sheet and warm in a 275°F oven until the cheese just starts to wilt, 5 to 7 minutes.
https://stlcooks.com/cheddar-and-bacon-in-puff-pastry/