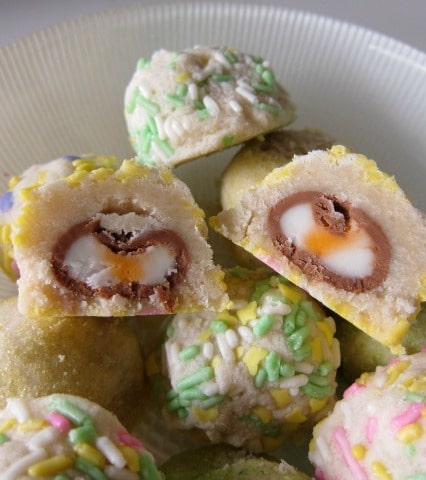 Cadbury Cream Egg Surprise Cookies
Ingredients
1/2 cup butter (1 stick), softened
1/4 cup sugar
1 tsp vanilla
dash of salt
1 cup flour
12 pack of mini cadbury cream eggs
assorted sprinkles
Instructions
Line baking sheet with parchment paper.
In a large bowl, cream butter, vanilla and sugar.
Add salt and flour, mixing until well combined and soft dough is formed (if you dough seems too sticky add a little more flour).
Unwrap your mini Cadbury Cream Eggs.
Roll a tablespoon of dough into a ball and flatten it with your fingers. Place an egg in the center of your dough….and gently press the remaining dough around the egg, until it's completely covered.
Lightly roll in the palm of your hand to cover smoothly.
Once your egg is covered, roll in assorted sprinkles.
And place on prepared parchment paper.
Repeat until all your eggs have been covered, then place in fridge to chill for about 30 minutes.
With about 10 minutes left, preheat your oven to 350.
Place cookies in oven for about 10-12 minutes- these cookies won't really brown so just gently press into one to feel for doneness.
Allow to cool completely before sinking into.
Your little bunnies won't be able to keep their paws off these!
https://stlcooks.com/cadbury-cream-egg-surprise-cookies/
Recipe and Photo: SWEET E Bakes (There are step by step photos on the site if you want to have things be a bit clearer for you)