Jump to recipe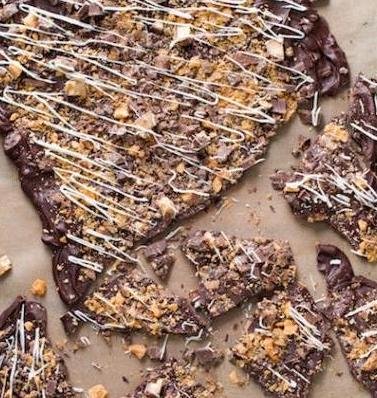 Butterfinger Candy Bark

Ingredients
4 cups (two 12-ounce packages) NESTLÉ TOLL HOUSE Semi-Sweet Chocolate Morsels, divided
6 NESTLÉ BABY RUTH Fun Size Candy Bars, chopped (1/2 cup)
3 NESTLÉ BUTTERFINGER Fun Size Candy Bars, chopped (1/4 cup)
3 NESTLÉ CRUNCH Fun Size Candy Bars, chopped (1/4 cup)
¼ cup NESTLÉ TOLL HOUSE Premier White Morsels
Instructions
Line a 10 x 15-inch rimmed baking sheet with parchment paper. Set aside 1 1/3 cups morsels.
Place remaining 2 2/3 cups morsels in large, microwave-safe bowl. Microwave on HIGH (100% power) for 1 minute; stir. Continue to microwave at 15- to 30-second intervals, stirring until smooth. Transfer melted chocolate to a large, room temperature dry bowl.
Add reserved 1 1/3 cups morsels to melted chocolate; stir until smooth. Let cool down, stirring occasionally, until it reaches 88° F. Fold in chopped Baby Ruth.
Pour onto prepared baking sheet, spreading with an offset spatula until 1/8-inch thick.
Sprinkle chopped Butterfinger and Crunch candy bars evenly over chocolate. Tap baking sheet on counter several times to help the candy settle.
Place white morsels in small, heavy-duty food storage bag. Microwave on MEDIUM-HIGH (70% power) for 45 seconds. Knead until smooth. If necessary, microwave an additional 5 seconds. Cut tiny corner from bag; squeeze to drizzle over bark.
Cool at room temperature. Break into approximately 2-inch pieces. Store bark in airtight container at room temperature.
Recipe and Photo: Nestle