Jump to recipe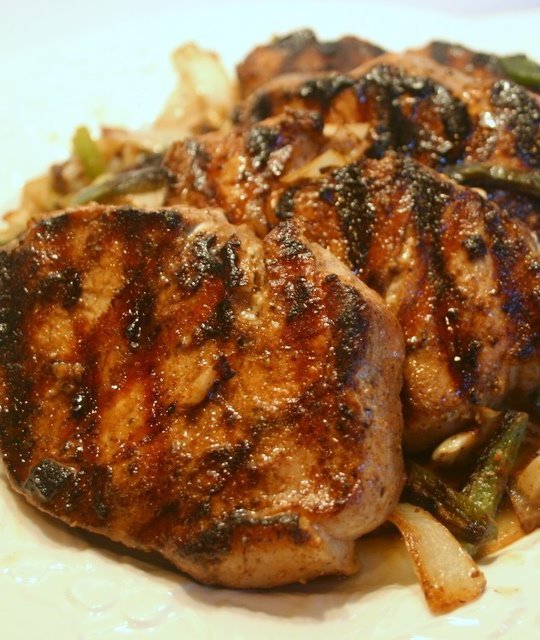 Jammin Jerk Pork Chops

Ingredients
4 boneless pork chops
Jerk seasoning, to taste (or you can mix a combination of equal portions thyme, all spice, and brown sugar)
Salt and pepper
1/2 large onion, cut into slices
2 cloves garlic, roughly chopped
1 jalapeno pepper, sliced without seeds (scotch bonnet or habanero peppers are more traditional and the more, the better; but my kids are still building up their heat tolerance, so I just used 1 jalapeno. You can of course use no or as much chili peppers as you want.)
2 scallions, sliced
Canola oil
Brown sugar
Soy sauce (optional)
Lime (optional)
Instructions
Generously season the pork chops on both sides with jerk seasoning, salt, and pepper (as much as if you were going to blacken the pork chops). Put pork, onions, scallion, garlic, and jalapeno in a Ziploc bag, throw in a few squirts of Pickapeppa sauce, and oil enough to lightly coat the meat. Marinate overnight.
Heat an indoor grill pan (or teflon skillet) over medium-high heat. Take out pork, leaving excess marinade and vegetables in the bag for now. Sprinkle a little brown sugar (like you were sprinking a little salt) on the top of each pork chop, and using tongs, spread the brown sugar around (this is so the pork can caramelize a little). When the grill is heated until just smoking, place the pork chops, sugar side down and let sear for three minutes.
Turn over the pork chops, turn down heat to medium, and let cook 5-10 minutes or until an instant read thermometer reads 135 degrees. When you've turned over the pork chops, add the onions and jalapenos from the marinade and cook those until tender and browned (they should be cooked around the same time that the pork is done; remove earlier if cooked and cook longer than the pork if necessary). When done, remove the pork and veggies to a plate. Take 2 tsp. of soy sauce and drizzle over the pork chops, letting the soy sauce go over the pork chops and settle in with the rest of the pan juices.
Let pork rest for ten minutes. Temperature should go up to 145 to 150 degrees during the resting phase.
Serve with fried plantains and rice and beans. You can squirt lime juice on your pork if you like a little tanginess.
Recipe and Photo: Big, Bold, Beautiful Food / CC BY