Jump to recipe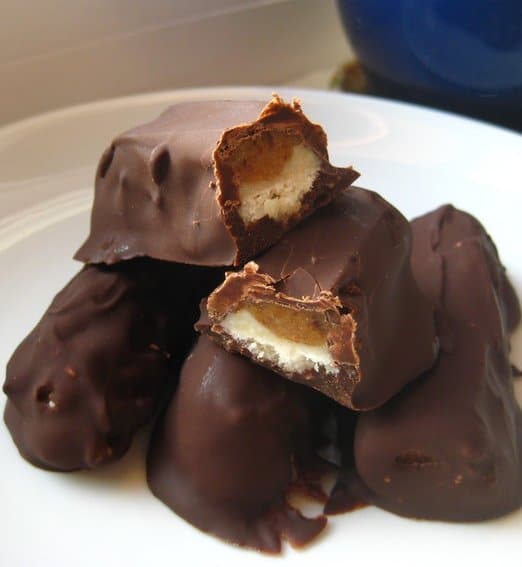 Ingredients
Shortbread
1 cup raw macadamia nuts
2 tbsp. agave syrup
1/2 tbsp. maple syrup
1/4 tsp. vanilla extract
pinch of salt
Caramel
6 large medjool dates, pitted
3 tbsp. almond butter
pinch of salt
1/2 tsp. water, or more as needed
Chocolate
1 cup dark, dairy-free chocolate chips
Instructions
Prepare a baking sheet lined with parchment paper and set aside.
Place macadamia nuts into the work bowl of a food processor. Pulse until ground. Do not over process, as nuts will become too creamy.
Add agave, maple syrup, vanilla and salt, pulsing to combine.
Scoop 1 1/2 tbsp. of mixture and roll into a ball. Form into a log, about 3-4 inches in length. Place on baking sheet and flatten. Use a knife to make straight edges if necessary.
Repeat until all mixture is used and about 12 bases are formed. Place in freezer.
Put dates and almond butter into the food processor and process until smooth. Add water, as needed, pulsing to combine. The mixture should be smooth, but not soft and sticky.
Remove tray from the freezer and add a layer of "caramel" on top of "shortbread" , forming log in the same way as the base. Return to the freezer for at least 30 minutes.
When ready, melt chocolate chips in a small saucepan or metal bowl over a saucepan of boiling water. Once chocolate is melted, remove from heat.
Coat bars one by one in chocolate, using two forks or your fingers to thoroughly spread chocolate. Scrape off excess chocolate as needed. Place bars back on the baking sheet and return to freeze overnight.
Keep frozen or refrigerated until serving.
Recipe and Photo: Little Toast / CC BY