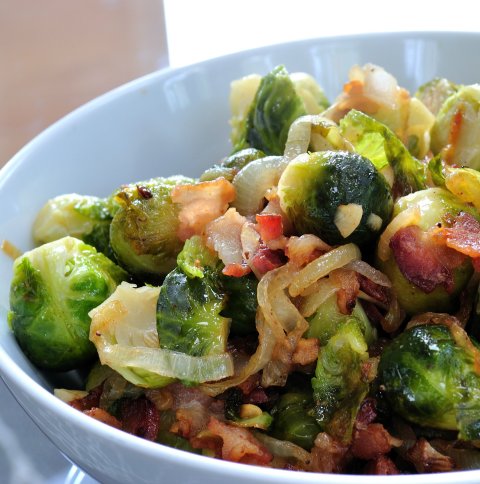 Brussels Sprouts with Bacon and Caramelized Onions
Ingredients
2 lbs Brussels sprouts, washed and trimmed
4 slices of thick cut bacon, diced
1 large yellow onion, sliced
1 cup chicken stock
2 cloves garlic, crushed
1 tbsp butter, plus 1 pat (about a tsp)
Salt and fresh cracked pepper to taste
Instructions
Cut the larger brussels sprouts in half, but leave the small ones whole
Cook the bacon in a large heavy skillet until it begins to crisp, but isn't quite crispy. Remove with a slotted spoon and set aside.
In the same skillet over medium heat, add the sliced onions and cook them in the bacon drippings for 15 to 20 minutes, stirring occasionally, until the onions are tender and caramelized. Remove the onions to the same plate as the bacon.
While the onions are cooking: in a large pot, melt the butter over medium heat, and add the garlic, cooking the garlic just until it's fragrant. Add the Brussels sprouts, tossing lightly with the garlic butter, and pour in the chicken stock. Cover and bring to a boil over medium heat, and cook the sprouts for about 5 minutes. Then uncover, increase the heat and let the liquid reduce, stirring the sprouts occasionally, until there are maybe only a couple of tablespoons of liquid left, another 5 minutes or so.
In the large skillet over medium-high heat, melt the final pat of butter (or just use a little olive oil) and add the cooked Brussels sprouts, bacon and onions, and fold them together. Heat the mixture for 30 seconds or so, until everything is completely warmed through. Check for seasoning and add salt and pepper to taste.
Serve immediately.
https://stlcooks.com/brussels-sprouts-with-bacon-and-caramelized-onions/
Recipe and Photo: Feeding Darragh / CC BY-SA