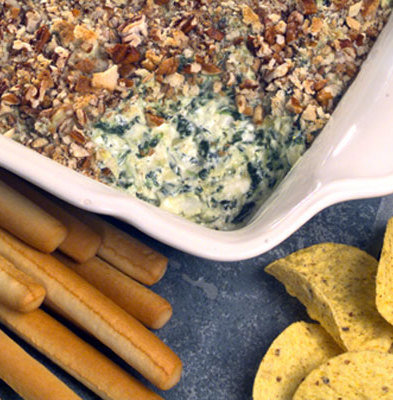 Pecan-crusted Artichoke and Cheese Spread
Ingredients
¼ cup butter or margarine, divided
1 medium onion, diced
2 garlic cloves, minced
4 cups coarsely chopped fresh spinach
1 can artichoke hearts, drained and chopped (14 oz)
1 pkg. cream cheese, cut up (8 oz)
½ cup mayonnaise
¾ cup (3 oz) shredded Parmesan cheese, such as Sargento Fancy Supreme
1 8oz package 4 cheese Country Casserole or Mexican Blend Shredded Cheese
? cup chopped pecans
½ cup herb seasoned stuffing mix
Instructions
Melt 3 tbsp butter in large skillet.
Add onion and garlic.
Sauté until tender.
Add chopped fresh spinach and cook over medium heat, stirring often, 3 minutes.
Add artichoke hearts and next 4 ingredients, stirring until cheese melts.
Spoon into a greased 2 quart baking dish.
Bake at 350°F for 20 minutes.
Stir gently.
Combine remaining 1 tbsp butter, pecans and stuffing mix.
Toss until blended.
Sprinkle over top of artichoke mixture.
Bake 15 more minutes.
Serve spread with pita chips or French bread.
https://stlcooks.com/pecan-crusted-artichoke-and-cheese-spread/
Recipe and Photo: recipes.wikia.com / CC BY-SA