Jump to recipe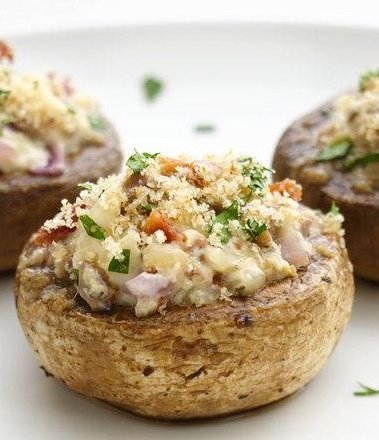 Blue Cheese-stuffed Mushrooms

Ingredients
20 large fresh mushrooms
2 tablespoons butter or margarine
¼ cup finely chopped red pepper
½ cup heavy cream
? cup crumbled blue cheese
1½ cups cooked rice
1 tablespoon minced fresh basil
? teaspoon ground white pepper
fresh basil — chopped, for garnish
Instructions
Clean mushrooms with damp paper towel.
Remove mushroom stems; finely chop stems and set aside.
Saute mushroom caps in butter in skillet until almost tender;drain on paper towels.
Saute mushroom stems and red pepper in skillet.
Add cream; bring to a boil.
Reduce heat and add cheese; cook until melted.
Stir in rice, basil, and pepper; cook until thoroughly heated.
Spoon rice mixture into mushroom caps.
Place mushroom caps in greased shallow baking pan.
Cover and bake at 350°F for 10 minutes or until tender.
Drain on paper towels.
Garnish stuffed mushrooms with basil.
Recipe and Photo: recipes.wikia.com / CC BY-SA