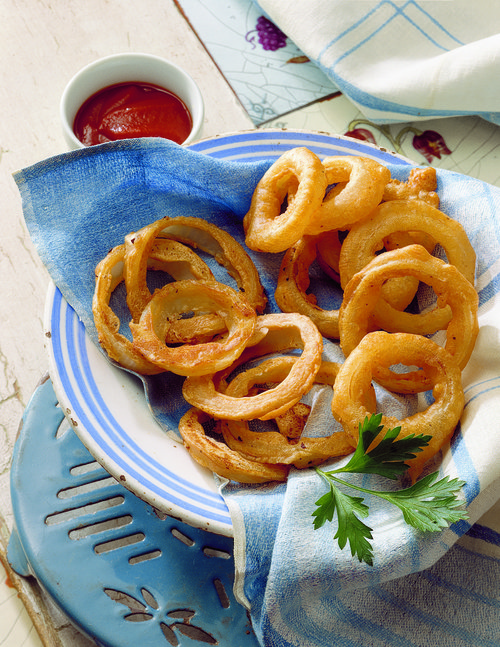 Recipe: Best Ever Onion Rings
Ingredients
3 large onions (about 9 to 11 ounces each), peeled and trimmed
1 cup flour
1 teaspoon paprika
3/4 teaspoon salt
1/4 teaspoon pepper
1 cup nonalcoholic or regular beer
Vegetable oil
Instructions
Cut onions crosswise into 1/2‑inch slices; pull apart into rings. (Refrigerate broken or end pieces for other uses.) Combine flour, paprika, salt and pepper in large bowl. Stir in beer, beating with wire whisk until foam is gone.
Baked version: Toss onion rings in batter. Transfer to plate, letting excess drip off as you transfer. Heat about 1 tablespoon oil in large 12-inch nonstick skillet over medium‑high heat. Place about half the onion rings in single layer in heated skillet, cook until browned, turning once, about 1-1/2 minutes on each side. Repeat with remaining onions. Transfer to ungreased shallow baking pans or cookie sheets, arranging in single layer. Bake at 425 degrees for 6 minutes, or until crisp.
Deep‑fried version: Heat at least 2 inches oil in deep‑fryer for 5 to 10 minutes or according to fryer directions. (If fryer has a temperature adjustment, set it at 375 degrees and heat until light goes out.) Drop batter‑coated onion rings into hot oil (about 10 to 20 at a time). Fry 2 to 4 minutes or until crisp. Drain on paper towels before serving. Makes 6 servings.
Variations
Add 2 teaspoons each of dried thyme, chili powder and ground cumin to batter. After baking or frying, sprinkle crispy rings with additional chili powder, ground cumin or bottled pepper blends, if desired.
Recipe and image provided by the National Onion Association.