Jump to recipe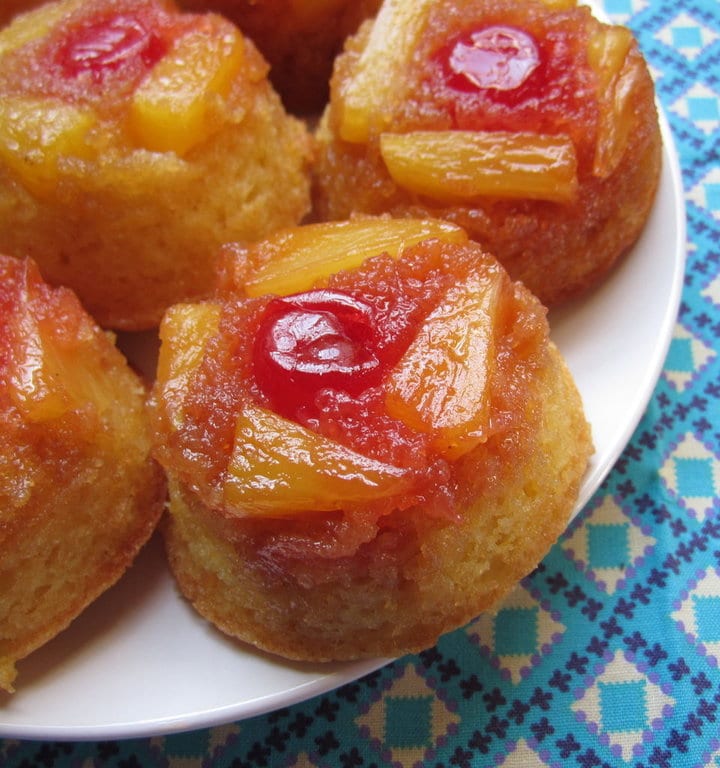 Ingredients
for the cake:
2 eggs
2/3 cup white sugar
4 tablespooons pineapple juice (I used orange juice since I used fresh pineapple!)
2/3 cup all purpose flour
1 teaspoon baking powder
1/4 teaspoon salt
for the brown sugar topping:
2 tablespoons of butter/margarine
1/3 cup brown sugar (packed)
can pineapple rings (or fresh pineapple!)
maraschino cherries
Instructions
Melt the butter and brown sugar in the microwave – 30 seconds should do it. Once melted, mix it well!
Sift the dry ingredients.
Mix the wet ingredients thoroughly!
And preheat the oven to 350 F.
Once the wet ingredients are mixed well and the dry ingredients are sifted, you can mix them together.
Pour the dry into the wet, and mix until everything is combined and you can't see any clumps of dry ingredients.
Spray your muffin tin with nonstick cooking spray.
Spoon in a little bit of the butter/brown sugar mixture into the bottom of each cup – it ends up being a little less than a tablespoon each. Then place a maraschino cherry in the middle and surround it with bit of pineapple.
Now you'll spoon the batter onto the toppings.
Bake in a preheated 350 F oven for 20 minutes. Test their doneness with a toothpick – it should come out of the middle of a cupcake nice and clean!
Once they're done, you need to let them cool for at least 15-20 minutes, preferably on a wire rack. 🙂 If you try to take them out of the pan right away, you'll probably lose your toppings because they'll be too hot.
Go around the edge of each cupcake with a butter knife to help loosen them. Then cover the muffin pan with a large plate or a cutting board and flip it over! This should let them come out nice and easy, and in one piece!
Recipe and Photo Courtesy of jessyratfink / CC BY-NC-SA