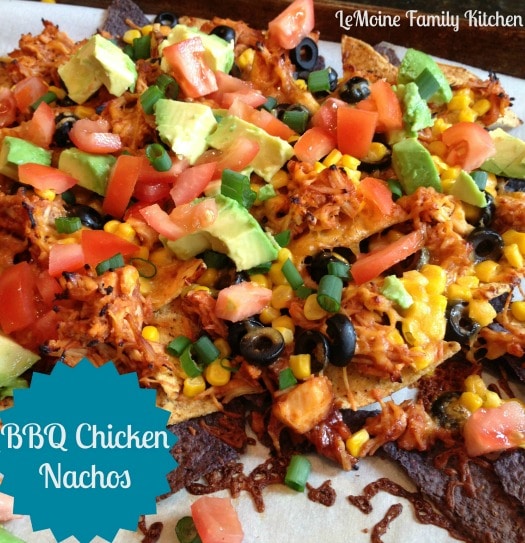 Ingredients
Yellow & Blue Corn Tortilla Chips
2 cooked chicken breasts, shredded
Sweet Baby Rays Honey BBQ sauce
Canned organic corn, drained
Canned organic black beans, rinsed and drained
tomato, diced
canned sliced black olives, drained
avocado, diced
scallions, sliced
shredded cheddar
sour cream
Instructions
Preheat oven to 425 degrees.
Stir together the shredded chicken and enough BBQ sauce to just coat.
Onto a parchment lined baking dish spread the chips out. Top with the shredded chicken, black beans, corn, black olives and some shredded cheddar.
Pop into the oven for 10 minutes until warmed through, cheese melted and the chips a little crisped.
Remove from the oven and top with some of the tomato, avocado and scallions. Serve with some sour cream on the side.
Notes
We don't have amount for most of the ingredients for a reason. You can take and have as much, or as little of each item that you want…let your hair down, and make this exactly how YOU want!
https://stlcooks.com/bbq-chicken-nachos/
Recipe and Photo: Foodista / CC BY