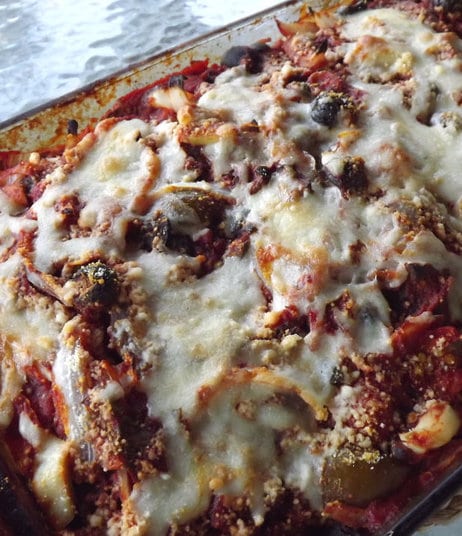 Baked Eggplant Parmesan With Olives
Ingredients
1 large eggplant
1½ cups flour
½ cup cornmeal
1½ cups of milk
3 eggs
Dash of salt
Dash of black pepper
Dash of chili powder
Dash of garlic powder
Olive oil
8 oz. block of Monterey Jack cheese
½ cup of grated parmesan cheese

For the Sauce:

28 oz. can crushed tomatoes
5 cloves of garlic – chopped
1 onion – sliced
Healthy handful of fresh basil
1 tsp. of capers plus a little juice
½ cup chicken broth
5 sweet cherry peppers – sliced
9 oz. can of black olives – drained and chopped
Dashes of black pepper
Dashes of ground oregano
Dashes of red pepper flakes
Instructions
For the Eggplant:

Preheat Oven 350 degrees:
Wash the eggplant and slice in ¼ inch slices, with or without skin, depending on your preference.
Combine the flour and cornmeal in a shallow bowl and add the spices. In another shallow bowl place the milk and the eggs and beat.
Prepare a baking pan with a drizzle of olive oil.
Dip the eggplant first in the flour/cornmeal and then in the egg wash and back in the flour/cornmeal. Place on the prepared pan. Repeat this process until you are finished.
Bake until a beautiful golden color is achieved. About 20-25 minutes.

For the Sauce:

Heat a large frying pan with a drizzle of olive oil. Add the onion and garlic and sauté until the garlic is fragrant and the onion is slightly transparent.
Add the crushed tomatoes, chicken broth and seasonings. Add the capers, peppers and chopped olives. Gently simmer.

Building the Eggplant:

Prepare a baking pan with a drizzle of olive oil and spoonful of the sauce. Place the eggplant slices on the pan. Top with sauce, parmesan cheese and sauce. Place another layer of eggplant, sauce, cheeses and continue this process. End with the sauce and cheeses and a drizzle of olive oil.
Bake 350 degrees for 25-30 minutes.
https://stlcooks.com/baked-eggplant-parmesan-with-olives/
Recipe and Photo: Foodista / CC BY