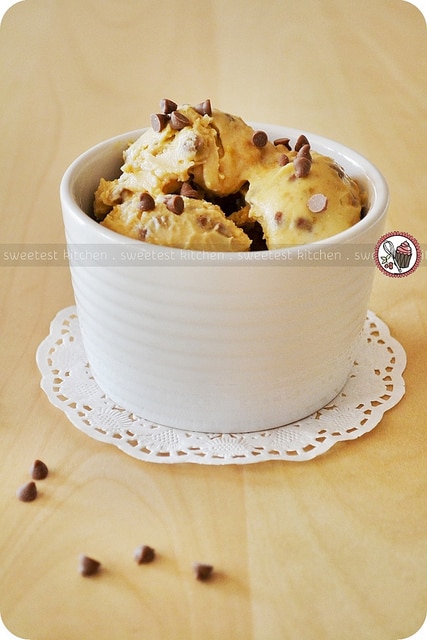 Chocolate Chip Cookie Dough Frozen Yogurt
Ingredients
1/2 cup unsalted butter, softened (I actually used a little bit under 1/2 cup)
1/3 to 1/2 cup peanut butter (depending on how much you like peanut butter)
1/2 cup packed brown sugar
1/4 cup caster sugar
2 teaspoons pure vanilla extract
1 cup plain flour
1/4 teaspoon baking soda
1/4 teaspoon salt
3/4 cup mini chocolate chips
1 cup vanilla yogurt
Instructions
In a mixing bowl, beat butter, peanut butter and both sugars until light and fluffy. Add vanilla extract and beat until combined.
In a small bowl, whisk together flour, soda and salt. Stir in chocolate chips.
Add flour mixture to butter mixture and fold in gently. Add yogurt and stir gently until fully incorporated.
Scoop into a freezer-safe container and cover tightly. Freeze until set (if you can wait), preferably overnight.
https://stlcooks.com/chocolate-chip-cookie-dough-frozen-yogurt/
Recipe and Photo: jamieanne on flickr / CC BY-ND