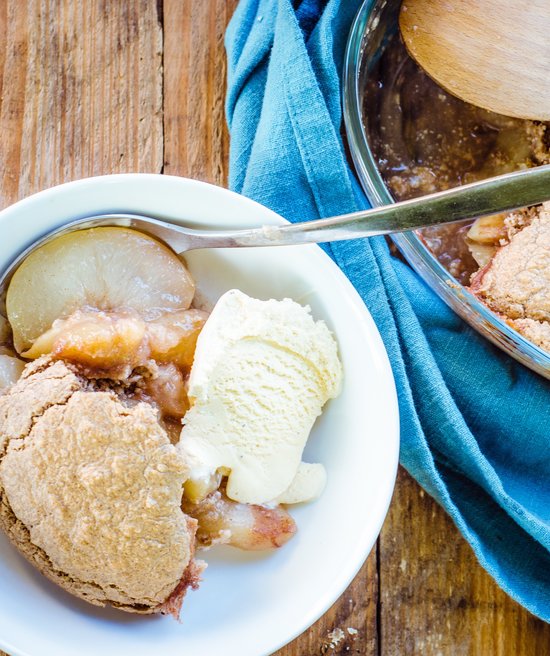 Nectarine and Apple Cobbler – Gluten-Free AND Vegan
Ingredients
4 nectarines, sliced
4 apples, sliced
1 teaspoon cornstarch in 2 tablespoons of water
12 tablespoons stevia (adjust to sweetness preferences)
pinch of salt
1 teaspoon cinnamon
scones:

1 cup oats (processed to flour)
1/4 cup almond meal
1/2 teaspoon salt
1 teaspoon baking powder
1 tablespoon Stevia
1/2 teaspoon cinnamon
1 teaspoon vanilla extract
1 tablespoon coconut oil
1 egg
1/2 cup almond milk
---
Instructions
Preheat oven to 200 ºC. Add the fruit filling ingredients to a large pan + simmer for 15-20 minutes.
Place the dry cobbler ingredients in a mixing bowl. In a separate bowl mix the remaining wet ingredients and add this to the dry mixture . Be sure to combine thoroughly + set aside for 5 minutes to thicken.
Transfer the fruit mixture to an oven proof baking dish + top with 4 heaping spoonfuls of the cobbler batter. Bake for 30 minutes.
https://stlcooks.com/nectarine-and-apple-cobbler-gluten-free-and-vegan/