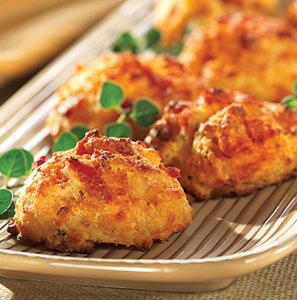 Recipe: Bacon and Cheese Appetizer Bites
Ingredients
No-Stick Cooking Spray
1/2 cup sour cream
1 tablespoon water
1 cup Hungry Jack Buttermilk Complete Pancake & Waffle Mix (Just Add Water)
1/2 cup (2 ounces) shredded cheddar cheese
1/4 cup bacon, cooked and crumbled
2 tablespoons butter, melted
Paprika
Instructions
HEAT oven to 400°F. Spray cookie sheet with no-stick cooking spray.
MIX sour cream and water in medium bowl until well combined. Add pancake mix, cheese and bacon pieces. Stir just until dry ingredients are moistened. Drop by rounded teaspoons onto prepared cookie sheet.
BAKE 10 to 12 minutes or until lightly browned. Brush with melted butter, sprinkle with paprika. Serve warm.