Jump to recipe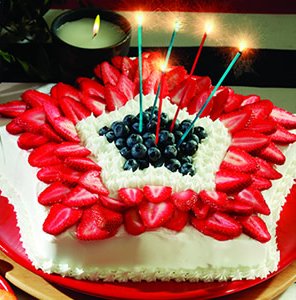 Ingredients
1 Wilton Star Cake Pan
1 box (2-layer size) cake mix, any flavor
1-2 cans (16 ounces) ready-to-spread white frosting
1 quart fresh strawberries
1 pint fresh blueberries
1/3 cup currant or apricot jelly, melted (optional)
Instructions
GREASE cake pan. Coat lightly with flour; set aside.
PREPARE cake mix as directed on package. Spread batter into prepared pan.
BAKE at 350°F for 35 to 40 minutes or until toothpick inserted in center comes out clean. Cool in pan 10 minutes. Remove from pan; cool completely on wire rack.
PLACE cake on serving plate. Ice cake with frosting. Cut strawberries lengthwise into 1/4-inch thick slices. Arrange on top of cake as shown in photo.
PIPE remaining frosting through star decorating tip to outline a smaller star shape on top center of cake. Pipe a second row of stars next to the first. Place blueberries inside frosting outline. Pipe additional frosting through star tip for border on cake as pictured. Brush fruit with jelly if desired.
How to Make Stars: Using disposable decorating bag and star decorating tip, hold bag straight up-and-down, 1/8 inch above surface. Squeeze until star is formed, then stop pressure and pull tip away. Stars will be neatly formed if you stop squeezing before you pull tip away.
Recipe and Photo Courtesy of Wilton Enterprises