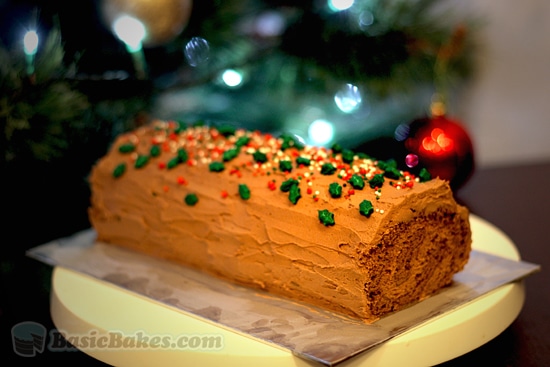 Ingredients
3 eggs
80g caster sugar
1/2 tsp salt
20g unsweetened cocoa
60g all-purpose flour

For the icing:

100g unsalted butter, softened
100g shortening
1 tsp vanilla extract
360g icing sugar
40g unsweetened cocoa
1/2 tsp salt
2-4 tbsp milk
Instructions
Preheat your oven to 200°C (400°F). Grease and line a (10? x 12? x 1?) Swiss roll tin.
In your mixer, beat the eggs with the sugar and salt on High for at least ten minutes, until the mixture has paled and tripled in volume.
Sift in the cocoa and flour, and gently fold the dry ingredients into the batter. Pour into your prepared tin and bake for 12 minutes.
While the cake is in the oven, spread a clean tea towel on your work surface and dust icing sugar over it. (You can use parchment or baking paper as well.)
After removing the cake from the oven, run a knife around the edges of the tin. Then, boldly flip the cake upside down onto the tea towel. Remove the tin and baking paper.
Fold one end of the tea towel over the cake. Roll the cake up tightly in the tea towel. Leave to cool for at least 30 minutes.
In the meantime, make the chocolate buttercream icing. Beat the butter and shortening with your mixer on High speed until creamy and slightly lightened in colour. Sift in the icing sugar, cocoa, and salt. Add 1 tbsp of milk and mix to combine. Keep adding the milk until the icing reaches a spreading consistency.
Unfurl your cake. Spread a thick, even layer of icing over the cake.
Roll up the cake again, making sure to keep the roll as tight as possible. Transfer to your serving platter or cake board, keeping the seam at the bottom. Use the remaining icing to ice the log cake (except for the ends). Use your palette knife or spatula to etch lines in the cake. (It's supposed to look like wood after all!) Refrigerate for at about 30 minutes to allow the icing to firm up.
Trim off the ends of the log cake to neaten it up.
Add other Christmas decorations to make the cake more festive. Traditionally, you'd decorate with meringue mushrooms. I didn't have any, so I just used whatever decorations I could buy in the store. Dust with icing sugar, if you want, to make it look like snow has settled on your log.
https://stlcooks.com/yule-log-cake/
Recipe and Photo: Basic Bakes / CC BY-ND
You should really visit Basic Bakes for the step-by-step photos, as well as some tips (which we cleverly removed to make you goto Ben's fab site!)
And while you are at it, give Ben some Pinterest love by clicking HERE!