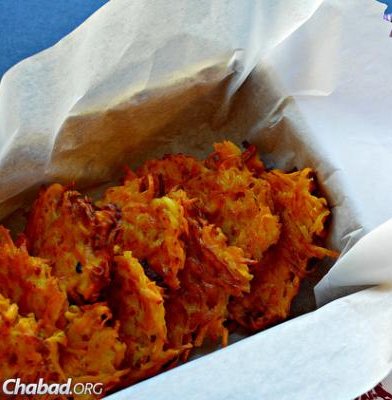 Sweet Potato Butternut Squash Latkes
Ingredients
1 butternut squash
2 Yukon Gold potatoes
1 large onion
1 sweet potato
4 eggs
½-3/4 cup flour
2 Tbsp salt
Olive oil for frying
Instructions
Dice and sauté the onion in 2 tbsp. olive oil and ¼ tsp. salt.
Peel and shred the butternut squash, sweet potatoes and potatoes.
Mix all the ingredients in a large bowl.
Heat olive oil in a non-stick frying pan. Scoop the batter using a 1/8 cup measuring cup for uniformity. Drop into the hot oil (keep the flame on medium-high). Cook until brown and firm on one side – approximately 5 minutes. Flip and cook 2 more minutes, or until brown, on the second side.
Remove from oil and drain on a paper towel. Repeat until all the batter has been fried.
Serve immediately.
https://stlcooks.com/sweet-potato-butternut-squash-latkes/
Recipe and Photo: Foodista / CC BY