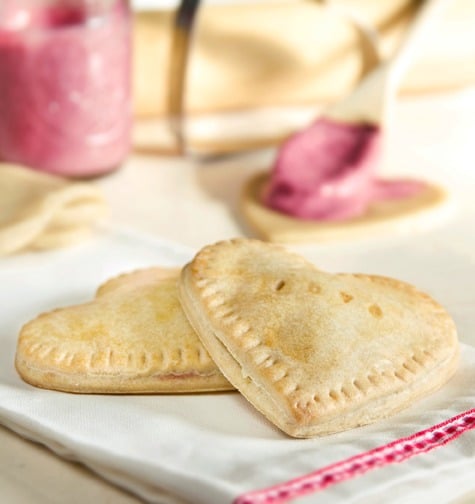 White Chocolate Cherry Hand Pies
Ingredients
Pie Crust

1 ¼ cups whole wheat flour
1 ¼ cups all purpose flour
2 Tbsp. brown sugar
½ Tsp. salt
4 Tbsp. cold unsalted butter
¼ cup fat free Greek yogurt
3 Tbsp. sunflower oil
4 Tbsp. ice water
1 egg white

Filling

8oz cream cheese, softened
1 cup pitted cherries, fresh or frozen
1 Tsp. vanilla extract
¼ cup white chocolate chips
Instructions
Prepare the pie crust first. In a large bowl sift together flours, sugar and salt. Cut the butter into small pieces and add to the bowl. Rub the butter into the flour mixture with your hands until the pieces are small but still visible.
Add oil and yogurt to the bowl and stir with a fork to combine. Knead the dough for one minute in a bowl. It will still be fairly crumbly. Transfer to a floured surface and continue to knead until you can form a ball of dough. Divide the dough in half and flatten into two discs. Wrap in cellophane and refrigerate at least one hour.
While the dough chills, create the filling. Add all ingredients to a food processor and pulse until smooth. Refrigerate until ready to use.
Preheat oven to 400. Line a cookie sheet with parchment paper and set aside.
When the dough is chilled, remove from the fridge and unwrap. Flour a large, smooth surface. Roll both balls of dough until they are each about ¼ inch thick. Use a cookie cutter to cut heart shapes or use a biscuit cutter/large glass to cut circles.
Place half of the pie hearts onto the prepared cookie sheet and add one teaspoon of pie filling to the center of each one.
I added personalized messages to each pie using letter stamps I bought at a craft store. I stamped 'love' 'be mine' and 'honey' on the heart shaped dough that would act as the tops of the pies.
Wet your finger and paint it along the edges of each cut out. Place a second dough heart on top of the filling and press down along the edges to secure.
Use the tines of a fork and press down along the edges to contain the pie filling. Brush a small amount of egg white on the top of each pie. This will give a nice golden color to the pies.
Bake for 20 minutes.
https://stlcooks.com/white-chocolate-cherry-hand-pies/
Recipe and Photo: Foodista / CC BY