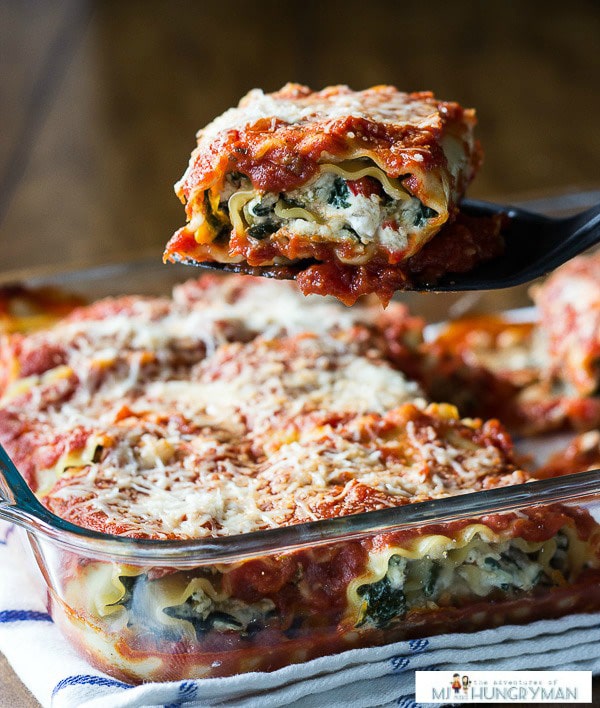 Vegetarian Lasagna Roll Ups
Ingredients
12 uncooked lasagna noodles
1 tsp extra virgin olive oil
1/2 red onion, diced
6 oz. portobello mushroom, diced
1/2 red bell pepper, diced
10 oz. frozen chopped spinach, thawed and completely drained
1/4 cup finely chopped roasted hatch chiles (about 2)
2 cloves garlic, minced
2 cups marinara sauce
15 oz part-skim ricotta cheese
2 cups shredded part-skim mozzarella cheese
1 egg
Instructions
Preheat oven to 350 F.
Noodles: Bring a large pot of water to a boil. Cook lasagna in salted water and cook to al dente. Drain and lay the lasagna noodles out flat on a baking sheet or a flat surface. Cool.
Vegetables: Meanwhile, heat oil in a nonstick skillet over medium heat. Add onion and garlic and cook about 4-5 min, or until softened and fragrant. Add mushroom, red bell pepper, spinach, roasted hatch chile and cook, stirring often, until spinach is wilted, approx 4-5 min. Transfer to a bowl.
Filling: Combine ricotta, 1 1/2 cups mozzarella cheese, 1 egg, spinach mixture in a bowl. Stir until well combined.
Assembly: Spray 9 X 13 baking dish with cooking spray. Line bottom with 1/2 cup of marinara sauce. Take 1/3 cup of filling and spread evenly over noodle. Carefully roll and place seam side down into the baking dish. Repeat with remaining noodles. Top rolled noodles with remaining sauce and mozzarella cheese.
Bake: Cover with aluminum foil and bake for 30-35 min. Remove foil and bake for additional 5 min, or until cheese is melted on the top. Remove from oven and serve warm.
https://stlcooks.com/vegetarian-lasagna-roll-ups/
Image and recipe reprinted with permission from mjandhungryman.com and www.healthyaperture.com