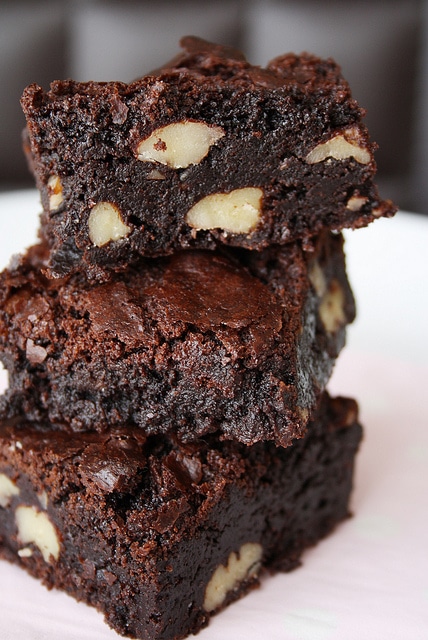 Ingredients
1 cup plain flour
1/2 cup cocoa powder
3/4 cup icing sugar
1 teaspoon baking soda
1/2 teaspoon salt
5 tablespoons melted butter or oil
1 cup buttermilk (or 2 tsp yogurt dissolved in 1 cup water wit
2 teaspoons tsp instant coffee, dissolved in 1 tablespoon water
1 tablespoon chopped nuts of your choice
2 tablespoons chocolate chips dusted in a little plain flour (optional)
---
Instructions
Mix all of the dry ingredients together and then add all of the wet ingredients. Mix thoroughly and transfer into a greased, lined tin.
Bake at gas mark 4 for 20-25 minutes. Poke with a skewer- it should come out semi-clean for a fudgy brownie or bake for a little longer for a cake.
Allow to cool for 10 minutes then turn out onto a wire rack.
Allow to cool thoroughly for maximum chocolaty taste.
Notes
This recipe can also be veganized to make a perfect, dense and delightful brownie! For a vegan version, use 1 cup soy milk with 1 tbsp lemon juice mixed in in place of the buttermilk.
https://stlcooks.com/vegan-brownies/