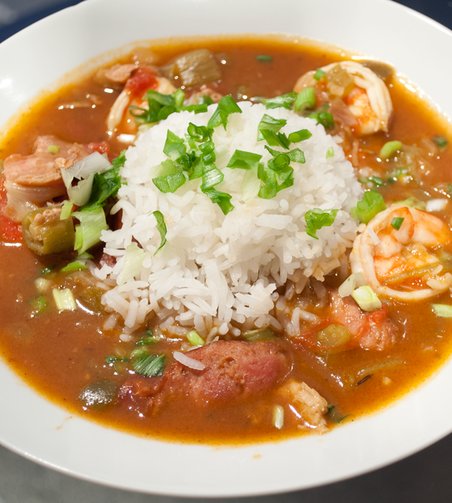 Turkey Sausage and Shrimp Gumbo
Ingredients
1 lb cooked turkey, chopped
1 lb smoked Andouille sausage, cut into bite-size pieces
1 lb raw shrimp, shelled and cleaned
4 oz flour (about 3/4 cup)
4 oz vegetable oil (about 1/2 cup)
1 large yellow onion, diced (2 cups)
2 stalks of celery (1 cup)
1 large bell pepper, diced (1 cup)
5 cloves garlic, minced
3 tbsp blackening spice (recipe follows)
6 cups homemade turkey stock (recipe follows)
1 12oz beer (preferably a lager like Heineken or Stella Artois)
1 28oz can whole tomatoes
2 large bay leaves
2 large stems of fresh thyme
12 oz chopped okra (about 4 cups)
Kosher salt to taste
Steamed rice, for serving
Hot sauce and chopped green onions, for serving
Turkey Stock

Turkey carcass, picked over for usable meat
1 celery stalk, roughly chopped
1 small onion, roughly chopped
1 small carrot, roughly chopped
Other vegetables taking up room in your crisper (optional)
1 to 2 cups herb dressing (or use a small bundle of thyme, sage, bay leaf, and parsley)
Water
Blackening Spice

1 tbsp sweet paprika
1 tbsp smoked paprika
1 tsp each: onion powder, garlic powder, dried oregano, and cayenne pepper.
1/2 tsp each: white pepper, black pepper, ground marjoram.
---
Instructions
For the stock:

Remove any usable meat from the turkey carcass and save for later. Put the bones, vegetables, and leftover dressing in a large stock pot, and cover with water until completely submerged. Bring to a boil, then reduce to a low simmer and cover. Cook until the carcass is falling apart, at least 3 to 4 hours. If you're making this in advance, let the stock cool and then refrigerate. If you've done the job right, your stock should be gelatinous when chilled. You can skim off any hardened fat once the stock has chilled completely. Use this stock in gumbo, or other recipes that call for turkey stock. It can be frozen for later use.
For the spice:

Combine all the spices in a small bowl. Use as needed.
For the gumbo:

In a large, heavy pot over medium heat, add the oil and flour and stir together to make a paste. Cook the paste, stirring constantly, and use a heat-safe spatula to scrape the bottom of the pan often and keep the roux from having too much contact with the heat. Continue this process until the roux is dark and toasted, about 30 to 40 minutes.
When the roux has reached your preferred color, add the onion, celery, and bell pepper, and stir into the roux. Cook for about 5 minutes or so, until wilted.
Add in the garlic and spices and continue to cook until fragrant, another minute. Stir in the beer and stock, whisking vigorously to smooth out any lumps.
Stir in the tomatoes and their juices, crushing the tomatoes into small pieces with your hands.
Add the okra, thyme, and bay leaves, and bring the mixture to a bubble. At this point, you should taste the broth and add kosher salt to your liking. I start with 2 tsp and go from there.
Now, reduce to a low simmer, and cook uncovered for at least an hour to an hour and a half, until the okra is very tender and the tomatoes have cooked down. You can skim off any fat that bubbles to the surface, or you can leave it in as "flavor."
Add the turkey and sausage, and continue to cook for another 30 minutes. Add the shrimp, then cover and remove the pot from the heat to allow the shrimp to cook gently, about 5 minutes.
Ladle the gumbo into bowls of steamed rice. Garnish with chopped green onions and serve with plenty of hot sauce on the side.
https://stlcooks.com/turkey-sausage-and-shrimp-gumbo/