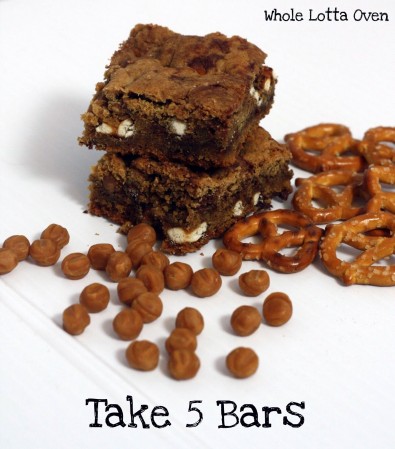 Ingredients
4 tablespoons butter, unsalted
1 cup light brown sugar, packed
1/4 cup peanut butter
1 large egg
1/2 teaspoon vanilla extract
1 1/4 cups all purpose flour
1/2 teaspoon baking powder
1/4 teaspoon baking soda
1/4 teaspoon salt
1/4 cup semisweet chocolate chips
1/4 cup caramel bits
1/2 cup pretzels, roughly crushed
Instructions
Preheat oven to 350 degrees. Line a 8 x 8 inch baking pan with foil or parchment paper, leaving an overhang on two sides.
In a medium saucepan over medium heat, melt the butter and brown sugar, stirring constantly, until smooth. Remove from heat and stir in the peanut butter. Let cool.
Stir in the egg and vanilla. Add the flour, baking powder, baking soda, and salt and stir until just combined. Fold in the chocolate chips, caramel bits, and pretzels.
Bake for 25 minutes, or until the edges are slightly brown. Cool in pan completely before cutting into squares and serving.
https://stlcooks.com/take-5-bars/
Recipe and Photo: Whole Lotta Oven / CC BY