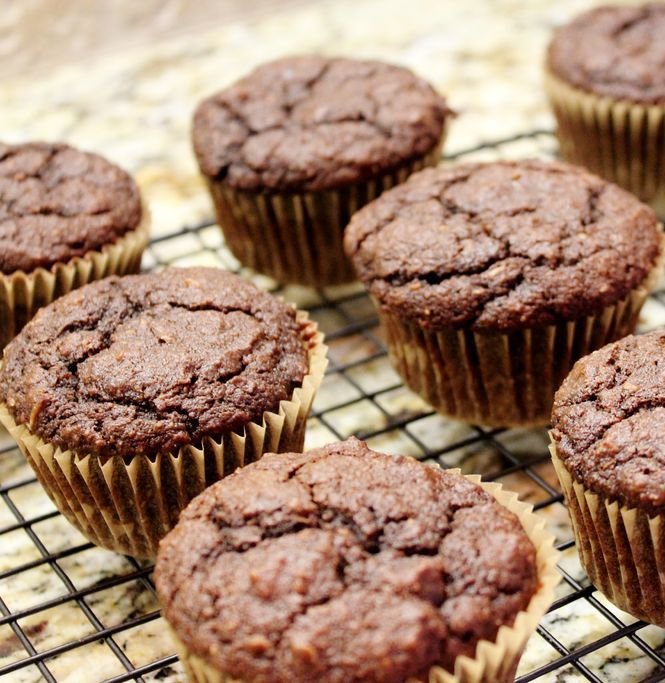 Double Chocolate Muffins – Gluten Free
Ingredients
1 cup certified gluten free rolled oats
1 cup mashed sweet potato (cooked, leftovers work well here)
1/4 cup coconut flour
6 eggs
1/4 cup butter
1/4 cup coconut oil
1/4 cup unsweetened cocoa powder
1 Tablespoon pure vanilla extract
dash salt
1 cup bittersweet chocolate chips, divided
1/3 cup honey
1 teaspoon baking soda
Instructions
Preheat your oven to 350 degrees F. Line a 12 cup muffin tin with paper liners.
Either in the microwave or on the stovetop in a small pot, melt the butter and coconut oil until just melted. Remove from heat (or from the microwave) and add in 1/2 cup of the chocolate chips and stir until they are completely melted.
Put the eggs, coconut flour, rolled oats, cocoa powder, sweet potato, salt, baking soda, vanilla and honey into your food processor. Do not turn on high….just pulse it a few times to get the ingredients mixed together. Stop and scrape down the sides of the bowl and pulse a few more times. The goal here is to mix everything but still leave the oats semi whole…not completely ground to powder. Add in the melted chocolate/butter mixture and pulse a few more times (like 6 or 7).
Pour your batter into a mixing bowl and stir in (by hand) the remaining 1/2 cup of chocolate chips. Fill your 12 muffin cups with batter almost to the top of the paper cup. Bake at 350 degrees for 23 minutes.
Remove from the oven and, using a fork, gently remove the muffins from the pan to cool on a wire cooling rack.
https://stlcooks.com/double-chocolate-muffins-gluten-free/
Recipe and Photo: Instructables / CC BY-NC-ND