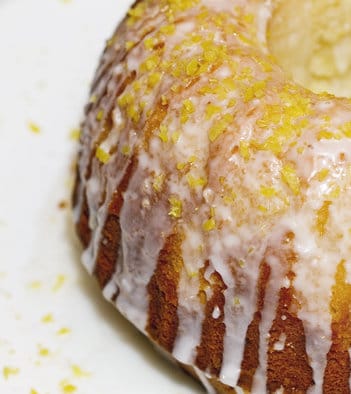 Recipe: Sunny Citrus Poundcake
Ingredients
2 ¾ C. sugar
1 C. butter
6 eggs
3 C. flour
½ tsp salt
¼ tsp baking soda
1 C. Greek yogurt (sour cream will also work)
½ tsp lemon extract
½ tsp orange extrace
½ tsp vanilla
zest of 2 lemons
For the glaze:
1/2c confectioner's sugar
juice of two lemons
Instructions
Preheat oven to 350 degrees.
Cream butter and sugar until light and fluffy.
Add eggs one at a time, beating well.
Add yogurt/sour cream.
Sift flour, salt and soda together and add to creamed mixture.
Beat well.
Add extracts and vanilla.
Pour into oiled 10" tube or bundt pan.
Bake at 350 degrees for 1 hour, until cake tests done (Test with toothpick or fork tine)
Cool 15 minutes then turn out onto a cake rack.
While it's cooling, make the glaze by whisking the sugar and lemon juice together briskly; spoon over the top of the cake. Finish by sprinkling any remaining lemon zest before the glaze sets too much.