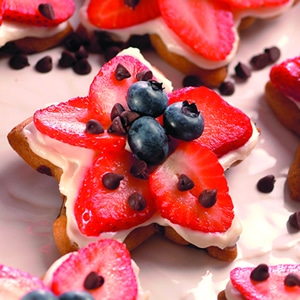 Recipe: Stars and Stripes Cookies
Ingredients
1 package (18 ounces) Nestlé Toll House Refrigerated Chocolate Chip Cookie Bar Dough
1 package (8 ounces) cream cheese, softened
1/3 cup granulated sugar
20 fresh, medium strawberries, sliced
3/4 cup fresh blueberries
2 tablespoons Nestlé Toll House Semi-Sweet Chocolate Mini Morsels
Instructions
PREHEAT oven to 350° F.
ROLL cookie dough to 1/4-inch thickness between two pieces of wax paper. Remove top piece of paper. Cut cookie dough into stars with 3-inch star cookie cutter. Transfer cookies to ungreased baking sheet(s). (If stars are too hard to remove from wax paper, refrigerate rolled dough for 10 minutes.) Roll remaining dough to 1/4-inch thickness; cut out additional stars.
BAKE 10 to 12 minutes or until light golden brown. While hot, reshape and pat edges of each star back into shape with knife. Cool on baking sheet(s) 2 minutes; remove to wire rack(s) to cool completely.
BEAT cream cheese and sugar in small mixer bowl until fluffy. Spread onto cooled cookies. Place strawberry slices onto each cookie pointing outward. Place 5 to 6 blueberries in center of each cookie. Top each cookie with morsels.
Recipe and Photo Courtesy of Nestlé USA, Inc.