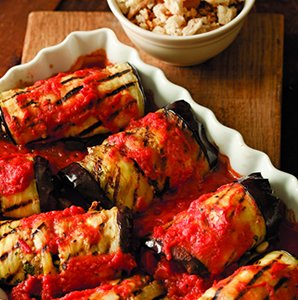 Recipe: Eggplant Rolls
Ingredients
1 large eggplant (7 to 8 inches long), stem removed, cut into 8 1/4-inch-thick lengthwise slices
2 tablespoons Filippo Berio Olive Oil
2/3 cup minced fresh oregano or mint
1 teaspoon fine sea salt
1/2 teaspoon coarsely ground black pepper
1/2 cup pine nuts
1 1/2 cups tomato sauce
1 cup toasted bread crumbs, made from stale bread
Instructions
Chef's Secret: Purchase eggplants that are very shiny, have intact stem tops, show no bruising or soft spots and feel heavy.
Preheat oven to 350°F, or fire up the grill. Brush eggplant slices on both sides with olive oil and place in single layers on slightly oiled rimmed baking sheets. Bake for about 10 minutes, or just until soft. Set aside to cool. Alternatively, grill eggplant slices on both sides until they soften and grill marks appear.
Mix oregano (or mint), salt, pepper and pine nuts together in a bowl. Spread a couple of tablespoons of the mixture along length of each eggplant slice, and then roll slices into bundles.
Spread 1/2 cup tomato sauce in the base of a 12 x 9-inch casserole dish. Place eggplant bundles in rows in the dish and spread remaining sauce evenly over top.
Cover dish with aluminum foil and bake for 30 minutes. Uncover, and bake 5 minutes longer.
Serve hot and sprinkle bread crumbs on top.
Recipe and Photo Courtesy of Filippo Berio