Jump to recipe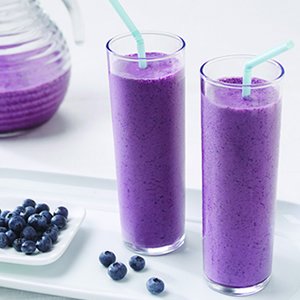 Notes
Substitute cranberry juice for pomegranate juice, if desired.

Ingredients
1 can (12 fluid ounces) Evaporated Fat Free or Lowfat 2% Milk
2 cups frozen or fresh blueberries
1 cup pomegranate juice
1/4 cup frozen orange juice concentrate
2 tablespoons honey or more to taste
1/2 cup ice cubes
Instructions
PLACE evaporated milk, blueberries, juice, concentrate, honey and ice in blender; cover. Blend until smooth. Pour into tall glasses and serve immediately.