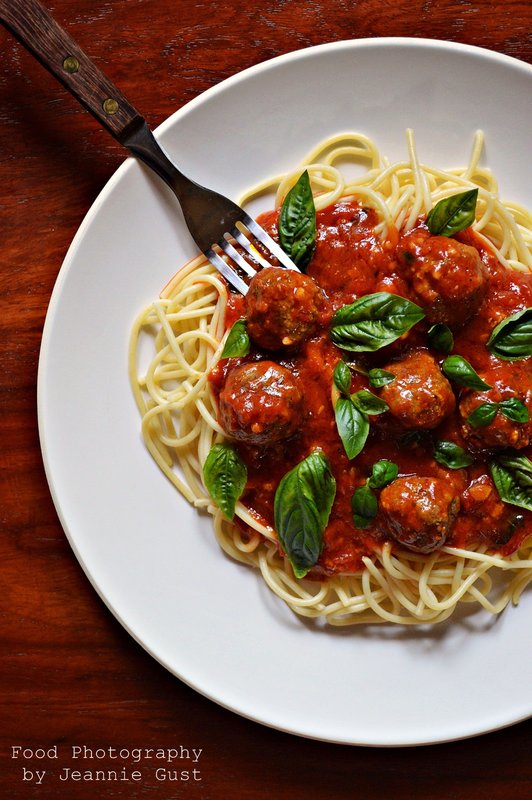 Spaghetti and Spicy Meatballs
Ingredients
1 lb. ground pork
2 cloves garlic, finely chopped
1 teaspoon dried chilli flakes
1/4 cup chopped flat leaf parsley (plus extra to serve)
2 teaspoons chopped rosemary
1 egg
1/4 lb. cherry tomatoes, halved
1 red bell pepper, sliced
800g tomato passata
---
Instructions
In a bowl, combine the mince, garlic, chilli flakes, parsley, rosemary and egg.
When thoroughly combined, roll the mince mixture into meatballs (with a diameter of around 3 centimetres). Cover with cling wrap, and place in the fridge for at least 30 minutes.
When the meatballs are ready to cook, heat 1 1/2 tablespoons of olive oil over medium-high heat in a frying pan. When oil is heated, add the meatballs.
Cook the meatballs until well coloured on all sides.
To the same frying pan, add the cherry tomatoes and capsicum. Stir and cook until the capsicum slices start to soften.
Add the tomato passata, and allow to simmer until the sauce is heated.
Serve the meatballs with a sprinkle of grated cheese and fresh parsley over the top, and a few slices of toasted ciabatta bread on the side.
Alternatively, these meatballs can also be served with pasta.
Notes
If you are unable to find tomato passata at your grocer, you can substitute your favorite tomato sauce.
https://stlcooks.com/spaghetti-and-spicy-meatballs/