Jump to recipe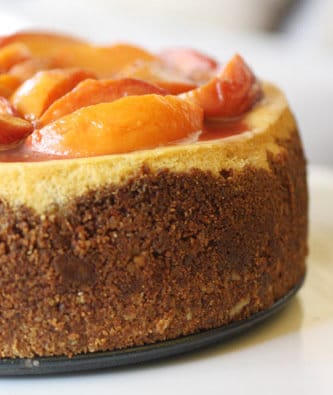 Savannah Peach Cheesecake

Ingredients
Crust
1 cup graham cracker crumbs
3 tbsp margarine
2 tbsp sugar or 3 sugar substitute-packets
Filling
1 envelope unflavored gelatin
1/2 cup cold water
8 oz light cream cheese
3 tbsp sugar or 4 sugar substitute-packets
1/8 tsp ground ginger
1/2 cup skim milk
16 oz peach low fat yogurt
Topping
2 fresh peaches, pitted-peeled, and sliced
1 tbsp lemon juice
Instructions
Crust
Stir together crumbs, margarine and 2 tsp sugar in small bowl;.
Press onto bottom of 9-inch spring-form pan.
Chill.
Filling
Soften gelatin in water in small saucepan; stir over low heat until dissolved.
Blend cream cheese product, 3 t sugar and ginger in large mixing bowl at medium speed until well blended (electric mixer).
Gradually add gelatin and milk; mix well.
Chill until mixture is thickened but not set.
Fold in yogurt; pour over crust.
Chill until firm.
About 6 hours.
Carefully remove rim of pan just before serving.
Topping
Toss together peach slices and lemon juice, drain.
Arrange peaches on top of cheesecake.
Recipe and Photo: desserts.wikia.com / CC BY-SA