Jump to recipe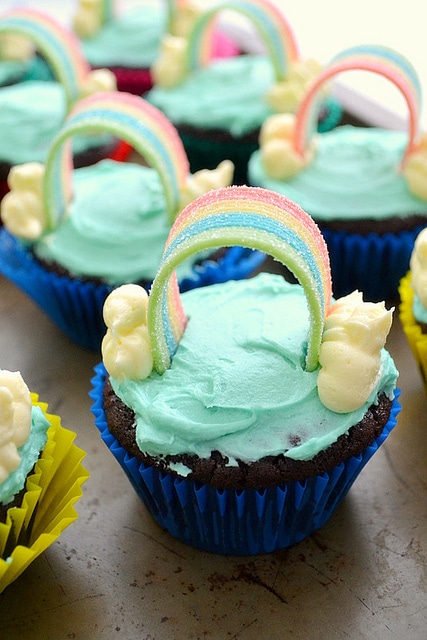 These "somewhere over the rainbow" cupcakes are the perfect dessert to serve at a Wizard of Oz themed party.  All you need are a couple of ingredients and some creative intuition to bake these colorful cupcakes at home.
Notes
The directions suggest using a boxed cake mixed to make this project easy but if you have a favorite cupcake recipe, by all means use that.

Ingredients
1 box white cake mix (plus the ingredients it requires)
2 containers of vanilla frosting
12-24 Rainbow Belts
Blue food coloring
Instructions
Bake the cupcakes according to the directions on the box. Meanwhile, use the blue food coloring to make one of the containers of vanilla frosting pale blue. In a pastry bag (or plastic zip top bag) with a star tip place the vanilla frosting. Depending on the size of your rainbow belts, you may have to cut them into halves or even thirds. Once the cupcakes have cooled, frost them with the blue icing. With the pastry bag, pipe a few "clouds" on either side of the cupcake. Arch the rainbow belts so the ends are on top of the clouds.