Jump to recipe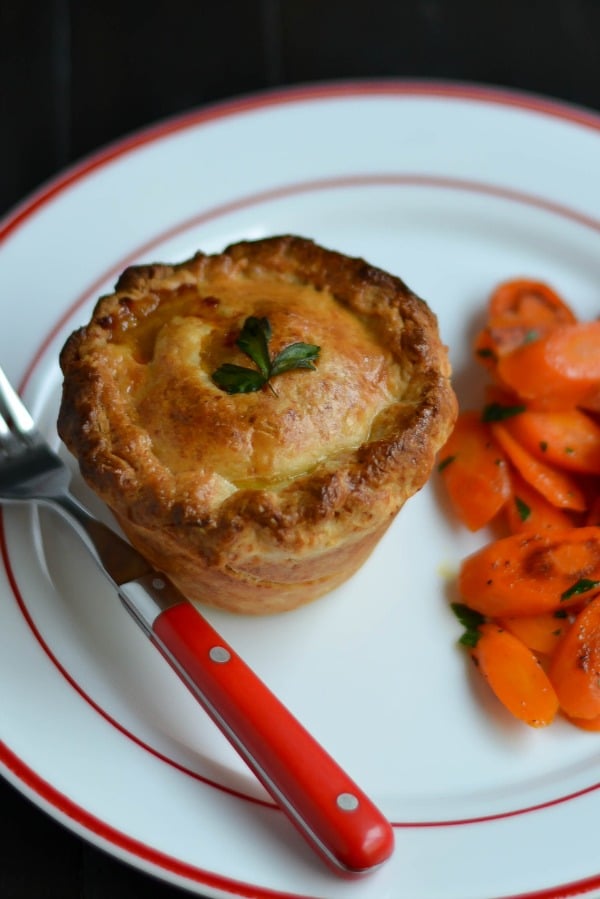 Tender and flavorful beef stew encased in a flaky Irish cheddar crust. Perfect for St. Paddy's day.
Beef Pot Pies with Irish Cheddar Crust

Tender and flavorful beef stew encased in a flaky Irish cheddar crust. Perfect for St. Paddy's day.

Ingredients
For the crust:
8 T. unsalted butter, cut into 1/4 inch pieces
8 oz. Irish cheddar, or sharp cheddar cheese, shredded
2 1/2 c. all-purpose flour
1 T. sugar
1 t. salt
1 t. dry mustard
dash of cayenne pepper
1/3 c. ice water, plus more if needed
For the beef stew filling:
4 t. vegetable oil, divided
1 1/2 lb. beef chuck meat, well-trimmed and cut into 1/2 inch pieces
salt & pepper
1 med. onion, chopped fine
2 med carrots, peeled and chopped small
1 large clove of garlic, minced
1 t. minced fresh thyme
1 t. minced fresh marjoram
3 T. flour
1 (15 oz.) can of low-sodium beef broth
3/4 c. water
1 1/2 t. Dijon mustard
2 T. chopped fresh parsley
1 egg, lightly beaten
Instructions
Make the pastry: Place the cut up butter pieces in the freezer for 15 minutes to chill. Meanwhile, in the work bowl of a food processor combine flour, sugar, dry mustard, salt and cayenne pepper. Pulse to combine. After the butter has chilled, scatter the pieces over the flour mixture (still in the food processor), along with the cheddar. Pulse about 10 times. Sprinkle half the ice water over the dough, pulse about 3 times, repeat with remaining water, pulsing 3 more times. Pinch the dough to check if it sticks together, if not add a tablespoon or two more ice water, until it comes together. Dump the mix in a large bowl and press it together to form the dough. Divide dough in half, shaping each into a 4-inch disk. Wrap each piece in plastic wrap and refrigerate at least an hour.
Begin the filling: Pat the meat dry with paper towels and season with salt & pepper. Heat 2 t. oil in a large skillet over medium high heat until just smoking. Add the meat in a single layer and cook, without stirring, until the meat browns well on the underside, anywhere between 5-10 minutes (the meat will give off liquid, just let it evaporate – leave it alone!) Stir the meat and cook another couple minutes, until it looses the raw color. Remove to a plate and set aside.
Reduce heat to medium, add the remaining 2 t. oil and the onions and carrots. Saute until softened and starting to brown, stirring occasionally, around 5 minutes. Add the garlic, thyme and marjoram, cook until very fragrant, about a minute. Stir in flour, cook and stir about a minute. Slowly add in the beef broth and water, then the meat, along with any juices left on the plate. Bring to a simmer, then reduce the heat to low, to med-low. Cover and cook, (adjusting the heat as necessary to maintain a simmer) stirring occasionally until the meat is just becoming tender, around 45 minutes. Remove from heat, add in the Dijon and parsley. Adjust seasoning with salt & pepper. Set aside to cool.
Rolling out the crust, filling & baking the pot pies: Remove the dough from the refrigerator 10 minutes before rolling it out. Roll the dough out on a well-floured surface, large enough to cut out 3, 7-inch circles out of each half (save the scraps). Line each cup of a large-sized muffin tin with the dough. (It won't look very pretty, you just kind of have your way with it to get it pressed in there.) Refrigerate the filled tins as well as the dough scraps 15 minutes to firm back up.
Meanwhile, preheat oven to 400 degrees. After 15 minutes and the filling has cooled down quite a bit. Divide the mixture evenly between crusts. Divide the remaining dough into 6 balls. Roll out each piece wide enough to cover the pot pies. Pinch the top and bottom crust edges together to seal, and finish the edges in whatever decorative way you like. Brush the tops with the beaten egg. Bake 35-40 minutes, rotating the pan after 20 minutes. Remove from oven & let sit 5 minutes before (carefully) removing the pot pies from the tin.
Recipe and Photo: Foodista / CC BY