Jump to recipe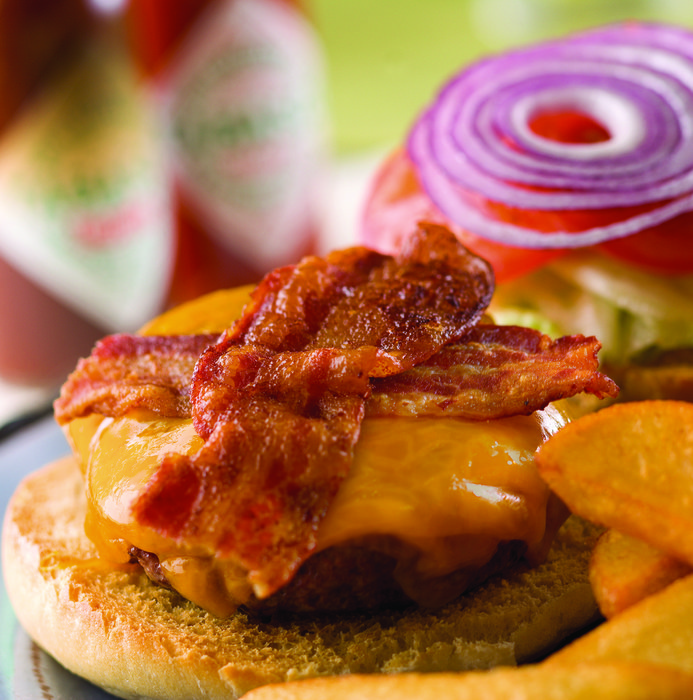 Grilling is no longer just for summer. Spice up your  grilling repertoire year-round with a Smokehouse Burger with Peppered Bacon and Cheddar that's sure to please a crowd.
Smokehouse Burger with Peppered Bacon and Cheddar

Ingredients
8 slices bacon
2 tablespoons Tabasco Chipotle Pepper Sauce
1/2 pound ground beef
1 teaspoon salt
1/2 teaspoon pepper
1 tablespoon Tabasco Original Red Sauce
4 ounces Cheddar cheese
4 hamburger rolls
Instructions
Preheat oven to 400° F.
Place bacon slices on rack positioned over baking pan and brush generously with Tabasco Chipotle Sauce. Bake for 8 minutes, flip, baste again, and bake until crisp about 8 more minutes.
Combine beef, salt and pepper. Form into 4 patties and grill or broil to desired doneness, about 5 minutes per side for medium. Baste burgers with Tabasco Original Red Sauce and top with cheese.
Serve burgers with melted cheese topped with bacon on rolls.
Quick notes
Here's a list of items to consider when preparing for your grilling get-together:
Quick Fix – Using store-bought hummus or salsa, stir in some Tabasco Original Red Sauce to enhance the flavor and add an extra kick for a tasty side.
Meat Mix-Up – Use ground turkey or chicken instead of ground beef when making burgers for an unexpected change of taste and texture.
Made-Over Margaritas – Combine frozen strawberries, tequila, lime juice, sugar, Tabasco Original Red Sauce and ice for a refreshing strawberry margarita.
For more grilling recipes, visit www.Tabasco.com.