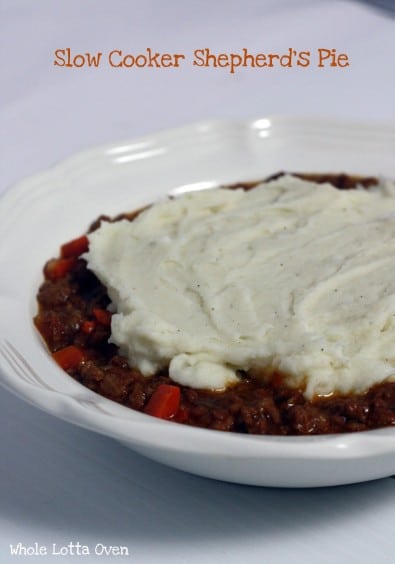 Slow Cooker Shepherds Pie
Ingredients
2 slices white sandwich bread, torn into quarters
1/4 cup whole milk
2 lbs ( 85% lean) ground beef
salt and pepper, to taste
1/4 cup vegetable oil
2 onions, minced
2 carrots, peeled and cut into 1/2inch pieces
3 tablespoons tomato paste
3 garlic cloves, minced
1 teaspoon dried thyme
1/3 cup all purpose flour
1 1/2 cups chicken broth
1/4 cup heavy cream
1 tablespoon soy sauce
1 cup frozen peas
3 cups mashed potatoes
Instructions
Mash bread and milk into paste in a large bowl using a fork. Using your hands, mix in ground beef, 1/2 teaspoon salt, and 1/2 teaspoon pepper.
Heat 2 tablespoons oil in a 12 inch skillet over medium-high heat until shimmering. Add beef mixture, 1 pound at at time, and cook while breaking up any large pieces with a wooden spoon. Cook until no longer pink, about 3 minutes per pound; transfer to slow cooker.
Heat remaining 2 tablespoons oil in skillet over medium-high heat until shimmering. Add onions, carrots, tomato paste, garlic, and thyme and cook until vegetables are softened and lightly browned, 8 to 10 minutes. Stir in flour and cook for 1 minute. Slowly whisk in broth, scraping up any browned bits and smoothing out any lumps; transfer to slow cooker.
Stir heavy cream and soy sauce into slow cooker. Cover and cook until beef is tender, 6 to 8 hours on low or 3 to 5 hours on high.
Let beef filling settle for 5 minutes, then remove fat from surface using large spoon. Stir in peas and season with salt and pepper to taste. Spoon mashed potatoes over beef filling and smooth into even layer using spatula. Cover and cook on high until potatoes are heated through, 20 to 30 minutes. Let cool 20 minutes before serving.
https://stlcooks.com/slow-cooker-shepherds-pie/
Recipe and Photo: Whole Lotta Oven / CC BY